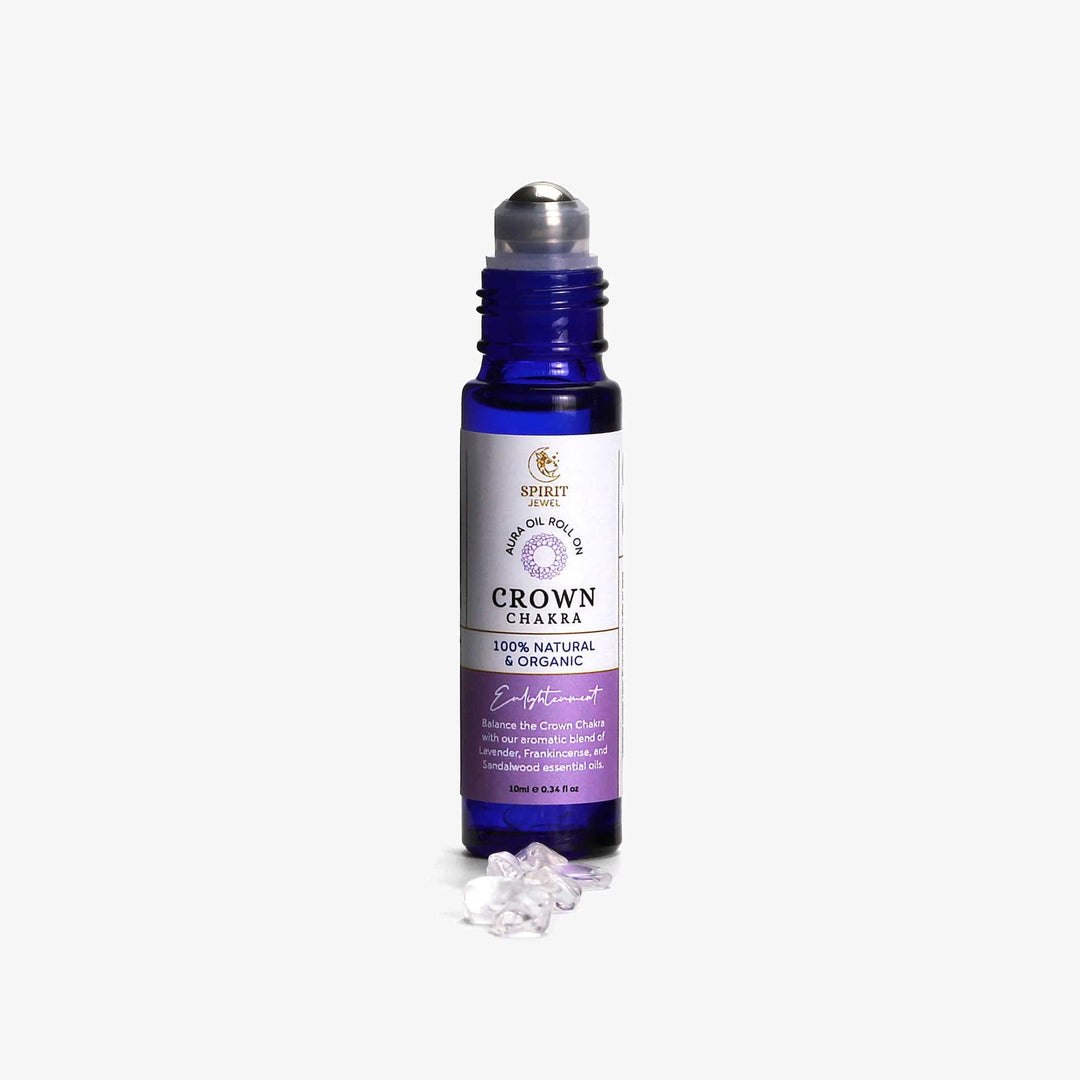 Crown Chakra Aura Oil Roll On
---
Unlock a world of spiritual insight with our Crown Chakra Aura Oil Roll-On! Featuring the finest organic Frankincense, Lavender, and Sandalwood essential oils, this mystical blend, when gently applied to your pulse points, will help you harness the healing energy of your Crown Chakra.
Frankincense's woody and resinous scent invites ancient wisdom and purification for the mind. Lavender's comforting calming floral aroma promotes tranquility balance. Sandalwood's comforting, earthly aroma nourishes spiritual connection and mindfulness.
We've added Clear Quartz crystals to our roll-on, as this high-vibrational stone amplifies the energy of the essential oils. It works in harmony to balance and realign the Crown Chakra, breaking through any blockages and providing a renewed sense of purpose and spiritual connection.
Recharge and heal your aura's energetic field while enriching your daily rituals, meditation, or yoga practices with a gentle application of our Crown Chakra Aura Oil Roll-On to your pulse points. Embrace the serenity and boundless potential of a balanced Crown Chakra, entering a dimension of deep spiritual expansion and enlightenment.
What is the Crown Chakra?
The Crown Chakra, also known as the Sahasrara Chakra, stands as the seventh and highest chakra within the body's energy system. Positioned at the crown of the head, it is associated with the colours violet or white. This chakra has a close association with spirituality, enlightenment, and the connection to the divine. When the Crown Chakra achieves balance, individuals experience a profound sense of tranquillity, connection, and purpose. It also heightens receptivity to intuition and spiritual insights.

Signs of an Unbalanced Crown Chakra
- Sensation of disconnection from one's spirituality
- Feeling adrift or lacking purpose
- Decreased creativity or inspiration
- Sense of isolation or loneliness
- Challenges in decision-making
- Overwhelmed by the demands of the world

The Crown Chakra serves as a potent energy centre, facilitating deeper connections with our higher selves and the divine. By harnessing essential oils to promote energy flow to the Crown Chakra, we can unlock an elevated state of peace, love, and understanding within ourselves.
Size
10ml glass roller ball
---
Holistic Healing Made Simple
Our Chakra Aura Oils are made with 100% natural, certified organic essential oils. They are free from chemicals, preservatives, and alcohol. Apply with confidence, knowing that you're nurturing your energy with 100% pure, healing goodness straight from nature.
Step 1
Apply to pulse points: temples, behind ears, side of neck or wrists.
Step 2
Massage in with deep breaths, and let the magic of pure essential oils seep in.
Step 3
Visualise your Crown Chakra, a lilac ball of light expanding with each breath.
Crown Chakra Aura Oil
Cocos Nucifera L (fractionated Coconut oil)*, Boswellia Serrata (Frankincense)*, Santalum Album (Sandalwood)*, Lavandula Angustifolia (Lavender)* essential oils. *Certified Organic
Caution
For external use only. Please avoid contact with eyes. If any irritation occurs, discontinue use. If pregnant, consult a healthcare professional before use.
Despatch times
We'll work our magic to get your precious healing goodies dispatched within 1-2 days after checkout.
UK DELIVERY - £2.49
We'll send your parcel via Standard Royal Mail Signed for/Tracked 24 – all tracked with extra cover.
Shipping Duration
1–3 working days (you may need to sign).
INTERNATIONAL DELIVERY - £7.50
Your package will be securely posted with Royal Mail International Tracked or Signed.

Europe: 3-5 working days
Everywhere Else: 5-7 working days
FREE SHIPPING
Yay! Spend £50 (UK) or £75 (international) and we'll upgrade your order to free shipping with tracking. Your tracking link arrives when we despatch.