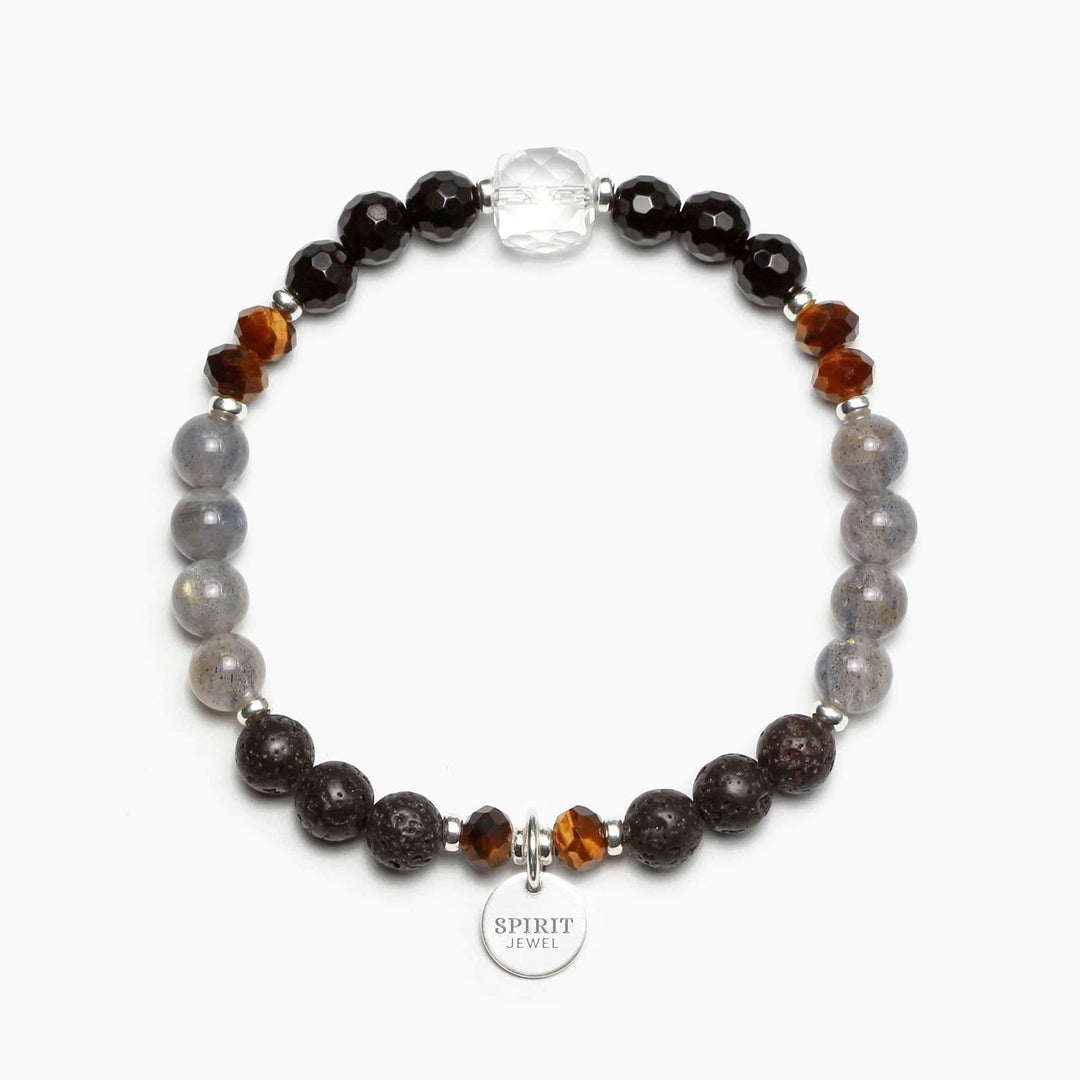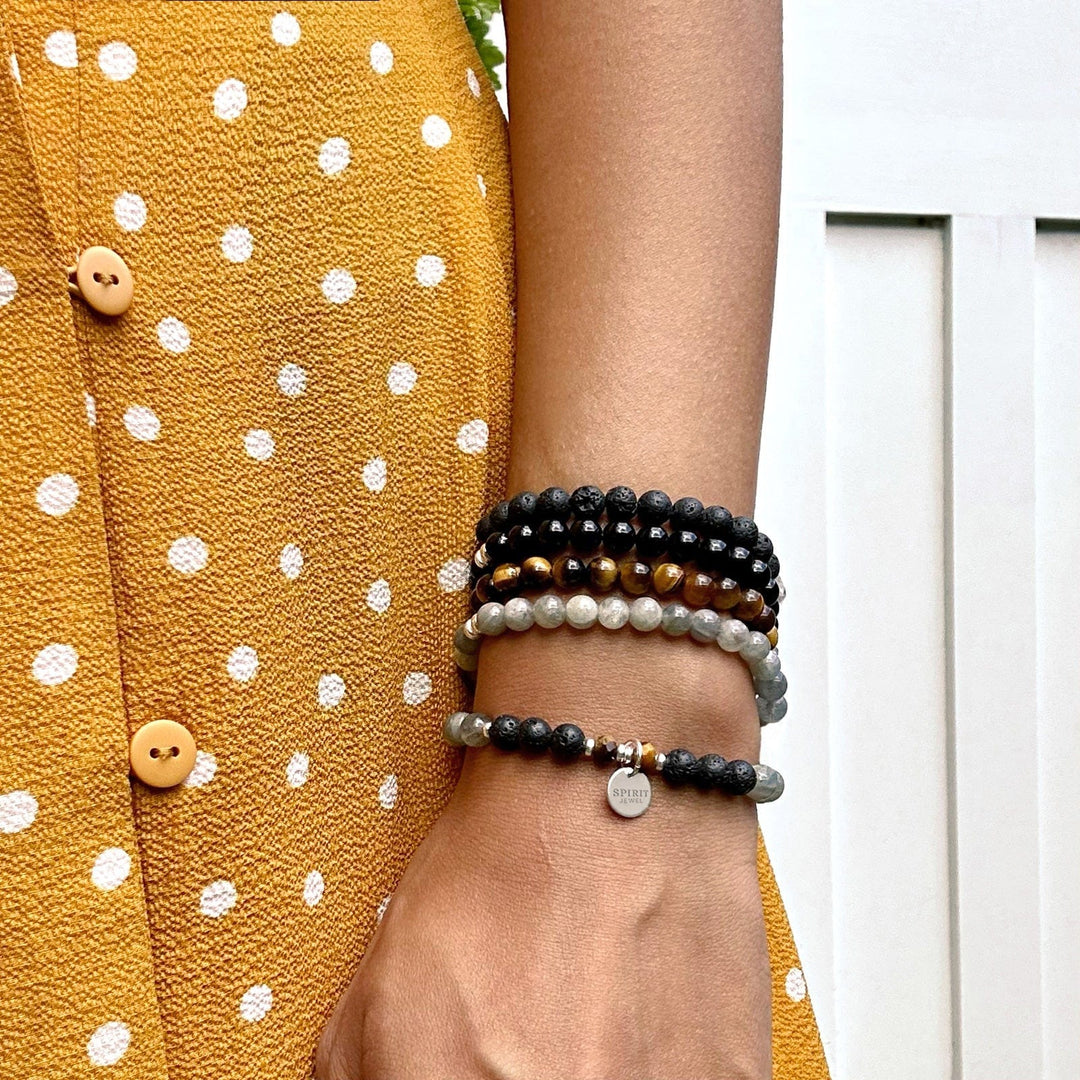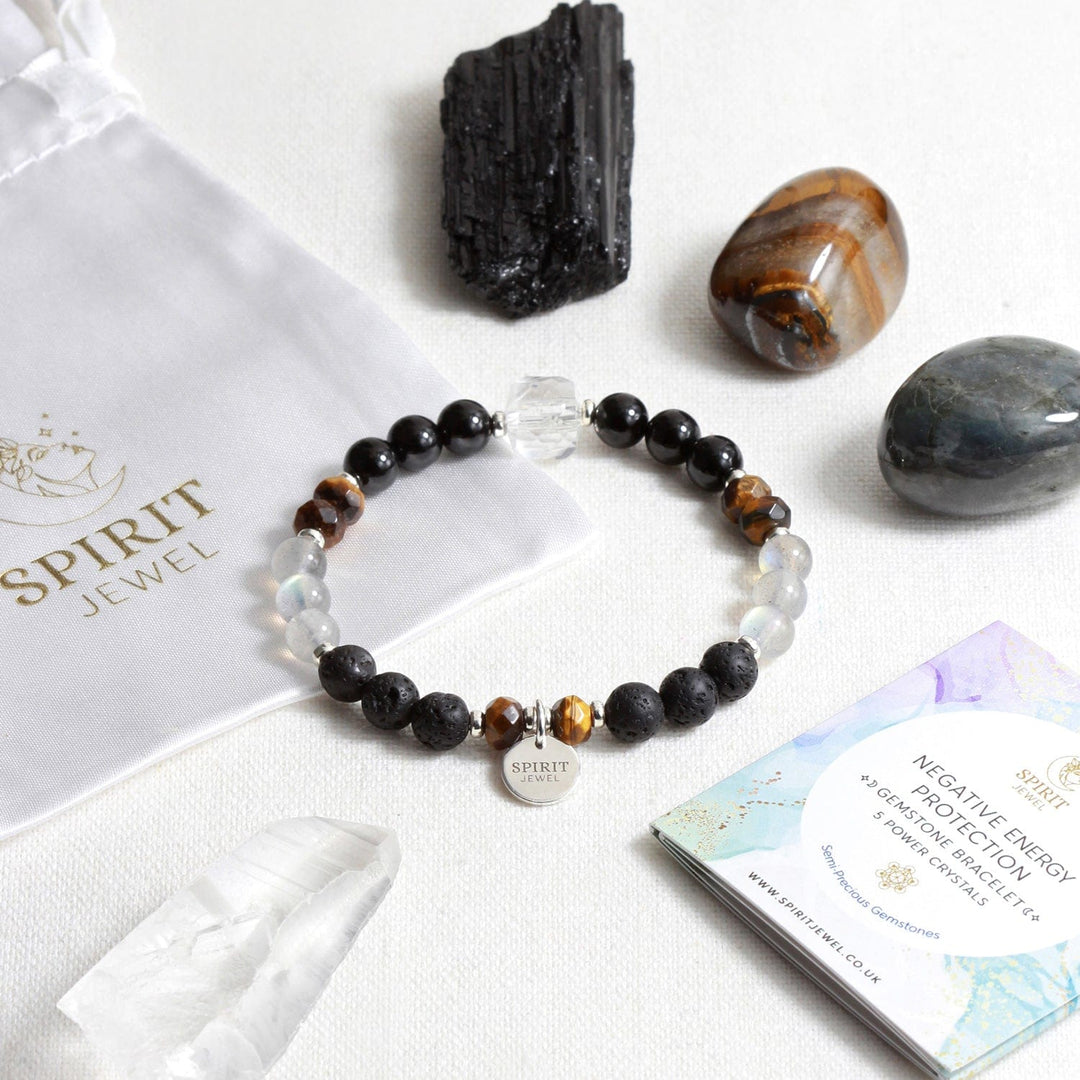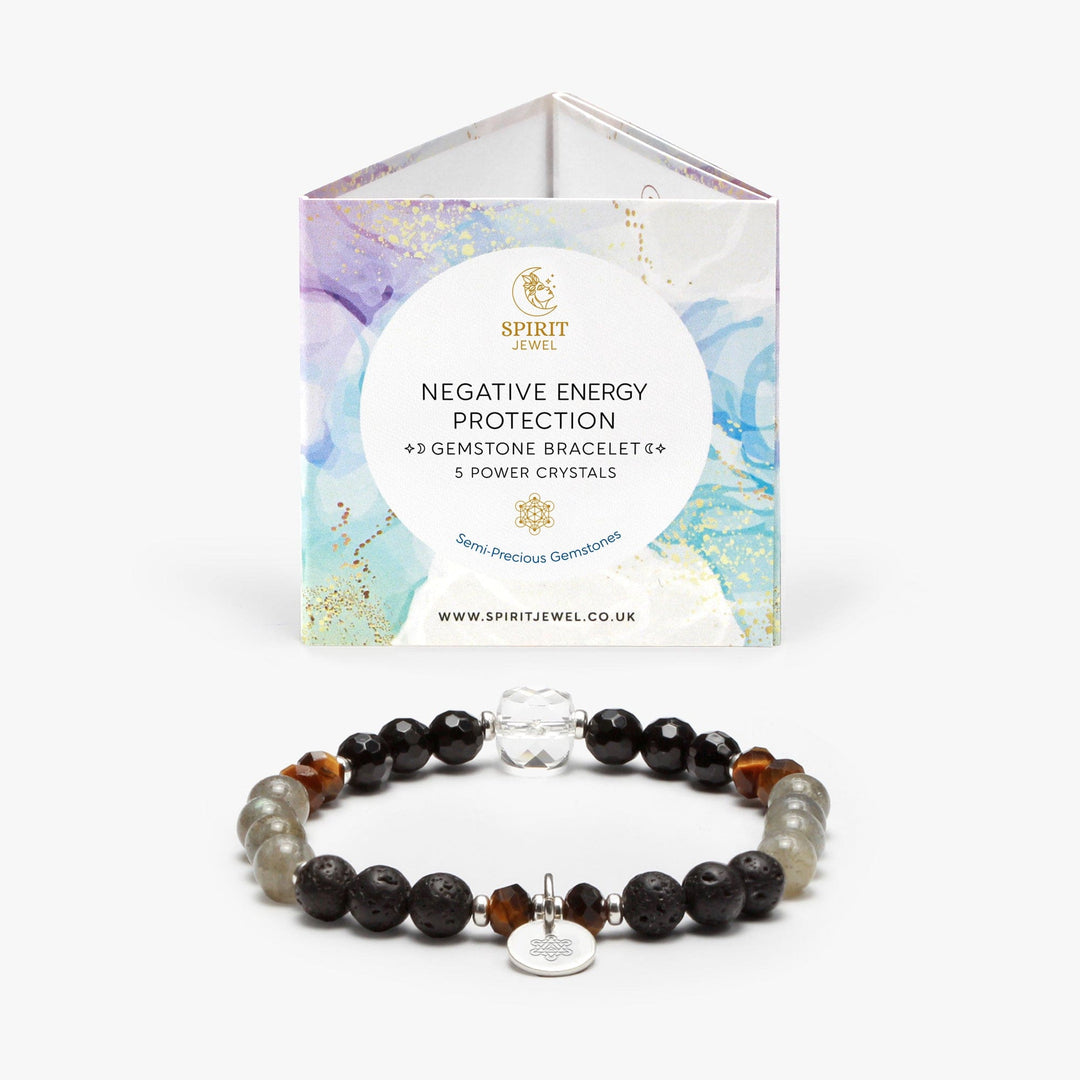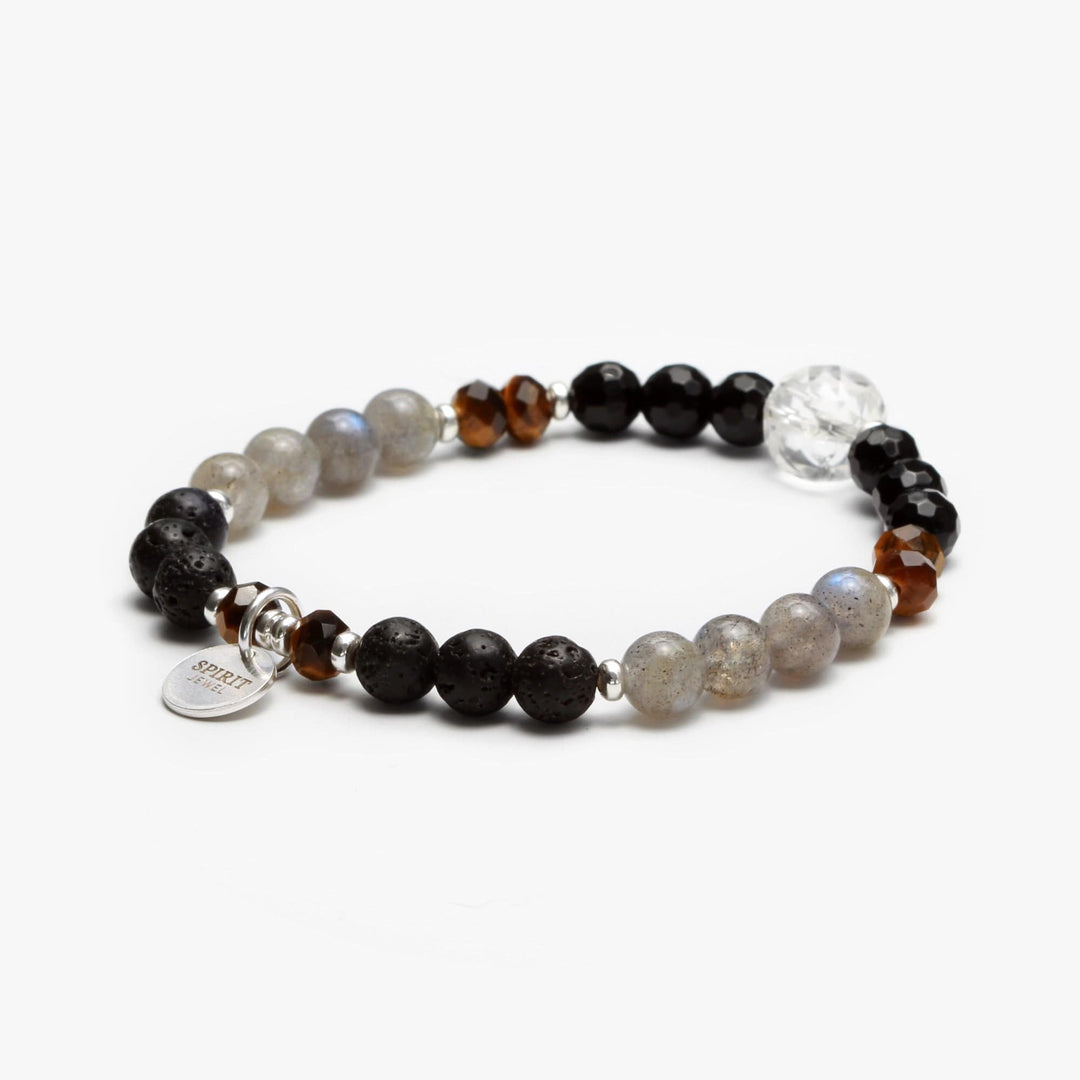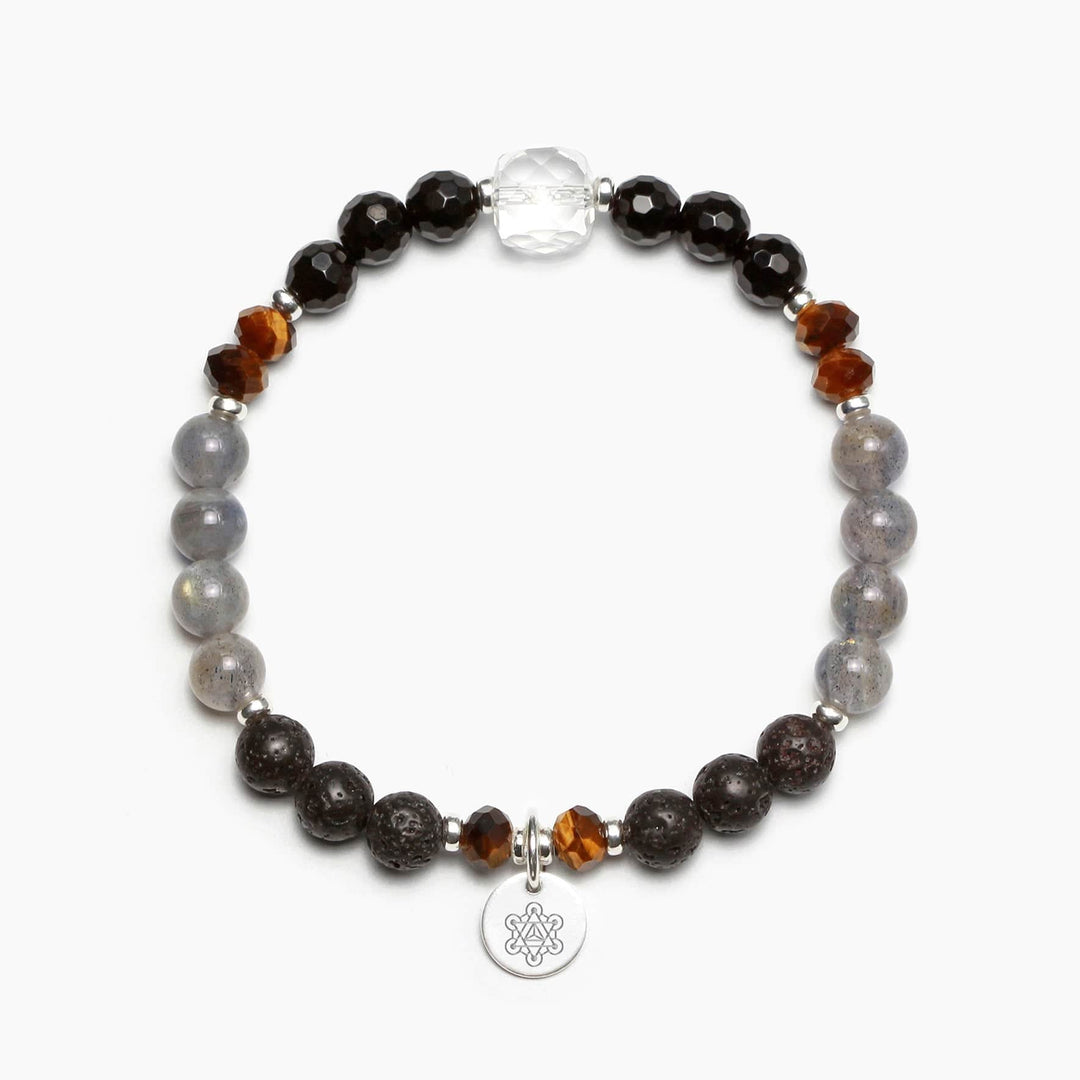 Negative Energy Protection Crystal Healing Bracelet
---
Our negative energy protection bracelet combines Tiger's Eye, Black Tourmaline, Lava Stone and Labradorite gemstones - a potent mix of protection crystals ready to wrap you in a force field of positive energy! This healing bracelet worn every day serves as a powerful amulet, forming a shield that protects you from psychic attacks, EMF, absorbing unwanted negative energies and transmuting any already within the body.
Featuring 5 powerful crystals for energy protection:
Black Tourmaline 
An exceptional crystal for everyone, Black Tourmaline brings protection and shielding from negative energies. This special stone clears and balances chakras, returning the body's energy to a higher vibration. As well as protecting you from absorbing unwanted energies, this black jewel will balance the Root Chakra, keeping you grounded and rooted in nature and Mother Earth.
Tigers Eye 
Intuitive Tiger's Eye is a golden brown gemstone filled with fierce protective power. Instinctively knowing when you need shielding from negative energy or people, this crystal is the perfect choice to keep you grounded and filled with inner strength. Stimulating the lower chakras, Tiger's Eye is your good luck talisman for protection against dark energies and illnesses.
Labradorite
You'll want to keep Labradorite close for its energy deflecting properties alone! Wrapping you in a shield of spiritual protection, this beautiful gem will banish unwanted energies from other people, deflecting jealousy, anger and psychic attacks, helping you to release negative thoughts and emotions. This magical, iridescent crystal also boosts psychic awareness and intuition.
Lava stone
Grounding Lava Stone is an ancient, porous gemstone known to bring protection and success. Whether it's fear you're battling with or seeking confidence to create new opportunities in your life; this volcanic rock will support you in releasing heavy emotions and unhealthy attachments. Known also as the stone of rebirth, wear Lava Stone to feel connected to the Earth.
Clear Quartz Power Crystal
No bracelet is complete without our power crystal; Clear Quartz! It's well known as a master healer, amplifying the healing properties of every other crystal it's paired with. This stone aligns all seven chakras of your energy field, offering balance and harmony to your whole body. With its striking, clear appearance, it's a powerful choice for supporting all ailments & conditions.
Metatrons Cube Symbol
Discover the transformative essence of Metatron's Cube, a sacred geometry symbol known for its profound healing and spiritual energies. Its shapes and patterns are linked to frequencies and high vibrations that balance and align chakras, release blockages, and improve well-being. By incorporating this intricate symbol into our bracelet designs, you can harness its energy to deepen and strengthen your healing journey as you wear it.
---
Included with your bracelet...
Our beautiful Healing Bracelets feature 6mm gemstone beads & come in 3 sizes!
Small (16cm/6.29")
Medium (18cm/7.08")
Large (20cm/7.87")
Choosing your size
No measuring tape? No problem! Wrap a piece of string around your wrist, mark where the end meets the beginning, and measure it against a ruler. Add 1cm for a comfortable fit, or 2cm for it to hang loose on your wrist.
Not finding the right fit? Reach out; we can customise one smaller/larger especially for you!
Despatch times
Our crystal healing bracelets are made-to-order – we'll work our magic and get them dispatched within 1-2 days after checkout!
UK DELIVERY - £2.49
We'll send your parcel via Standard Royal Mail Signed for/Tracked 24 – all tracked with extra cover.
Shipping Duration
1–3 working days (you may need to sign).
INTERNATIONAL DELIVERY - £7.50
Your package will be securely posted with Royal Mail International Tracked or Signed.

Europe: 3-5 working days
Everywhere Else: 5-7 working days
FREE SHIPPING
Yay! Spend £50 (UK) or £75 (international) and we'll upgrade your order to free shipping with tracking. Your tracking link arrives when we despatch.