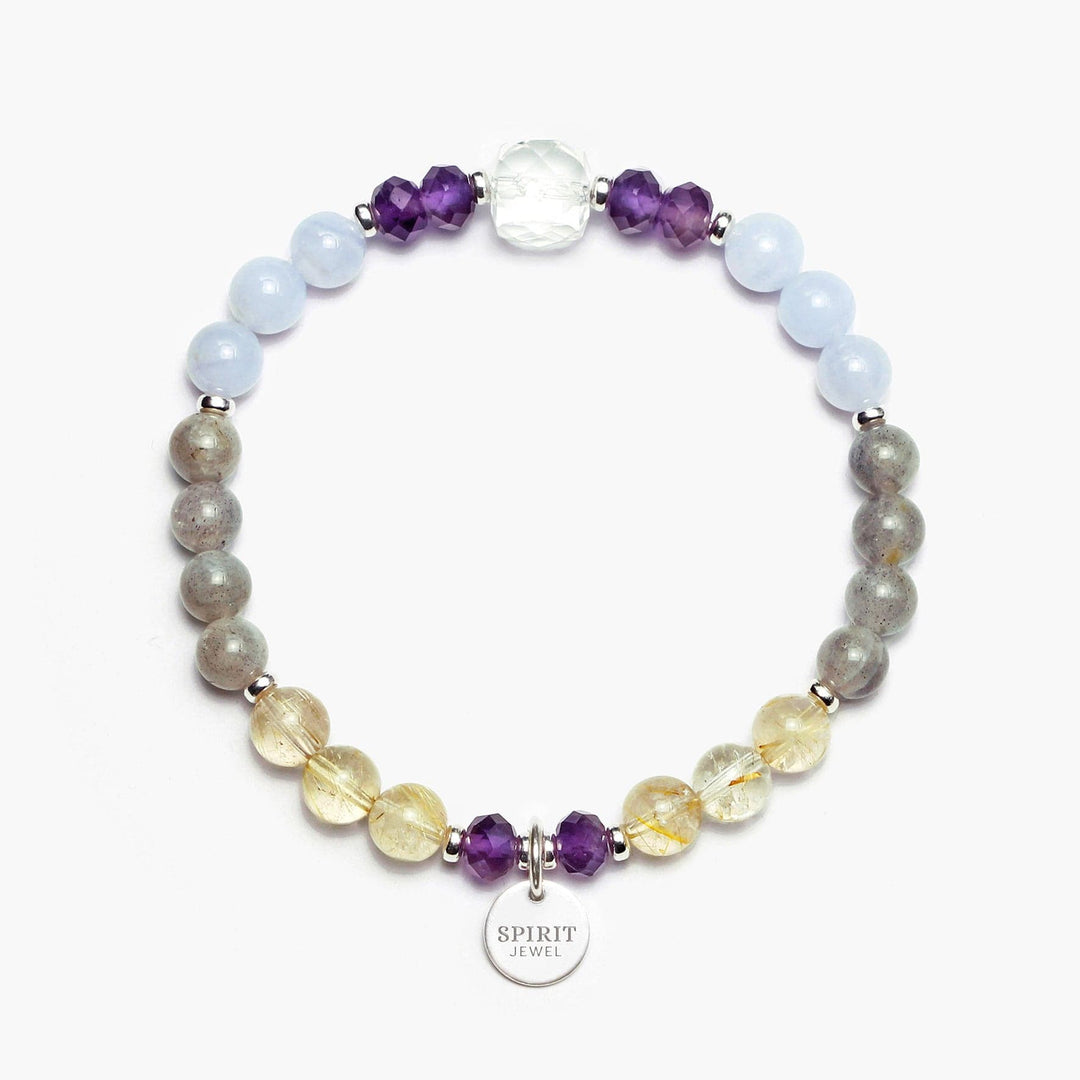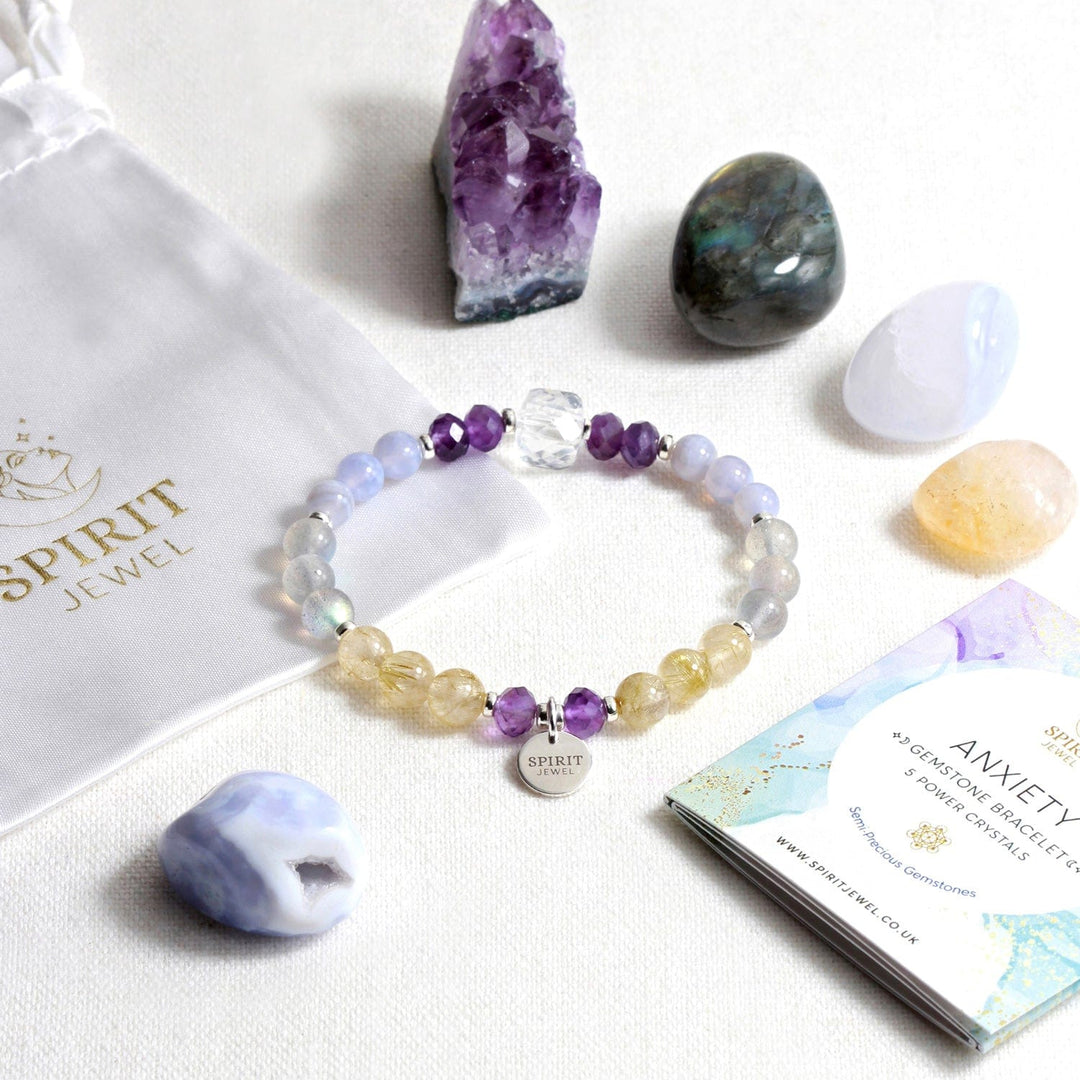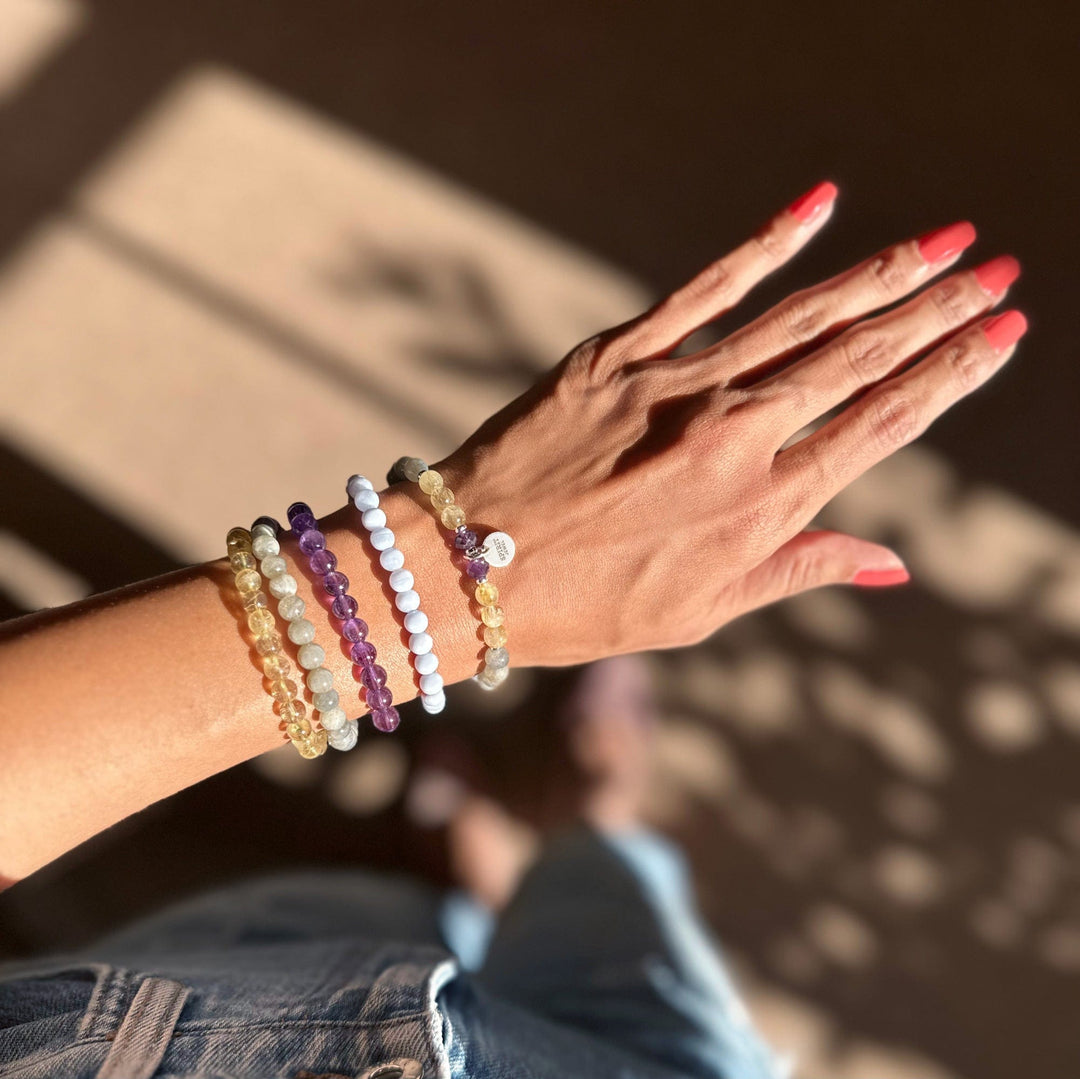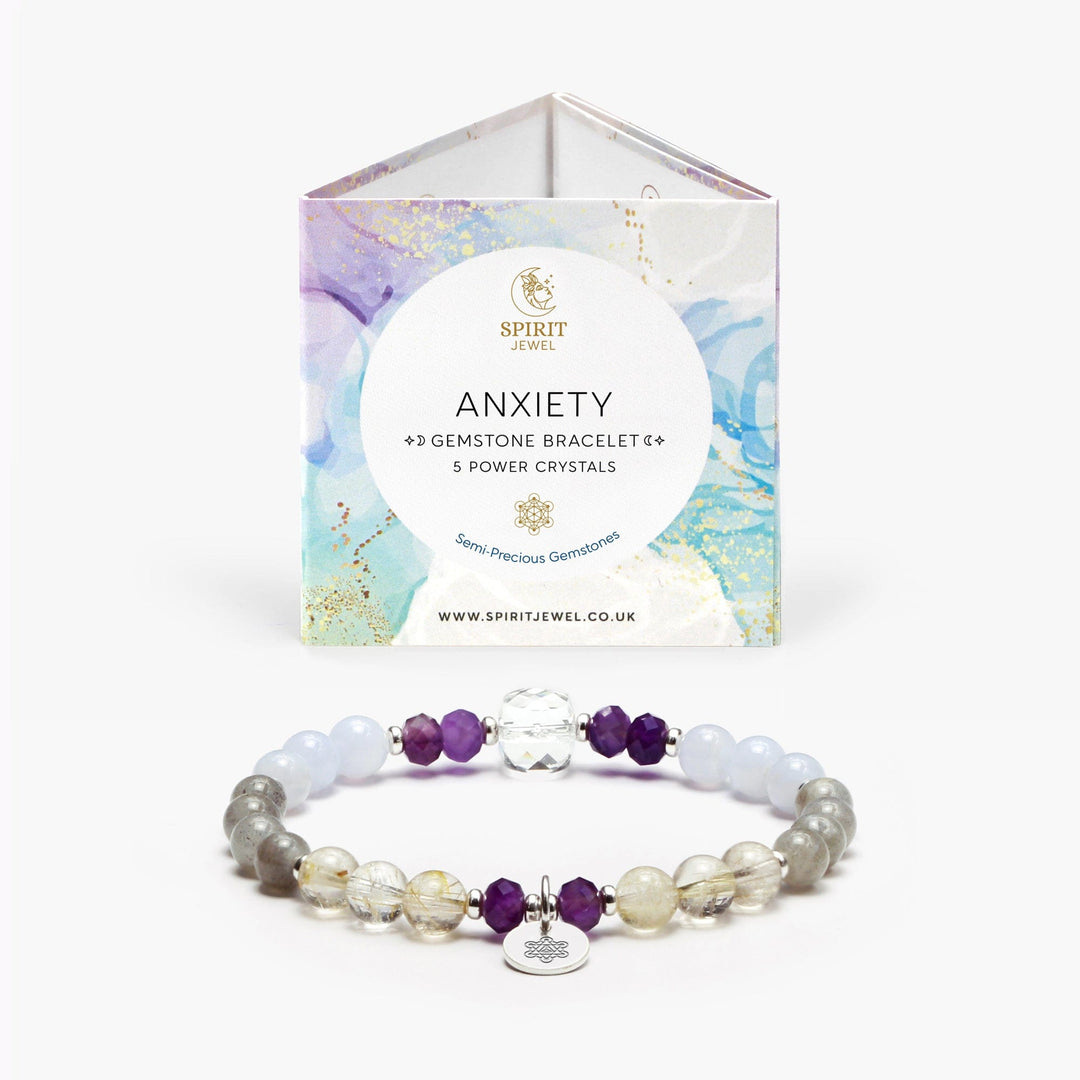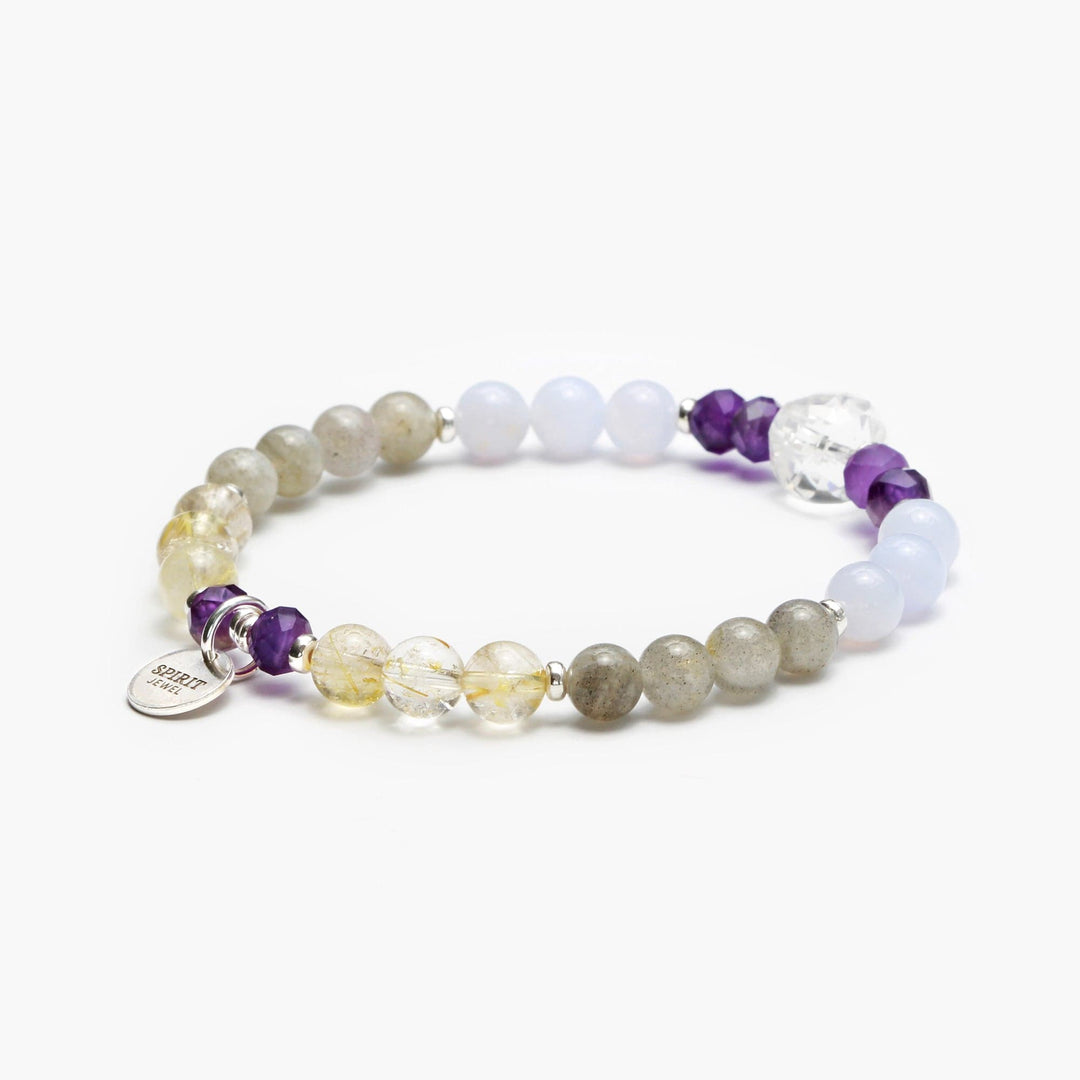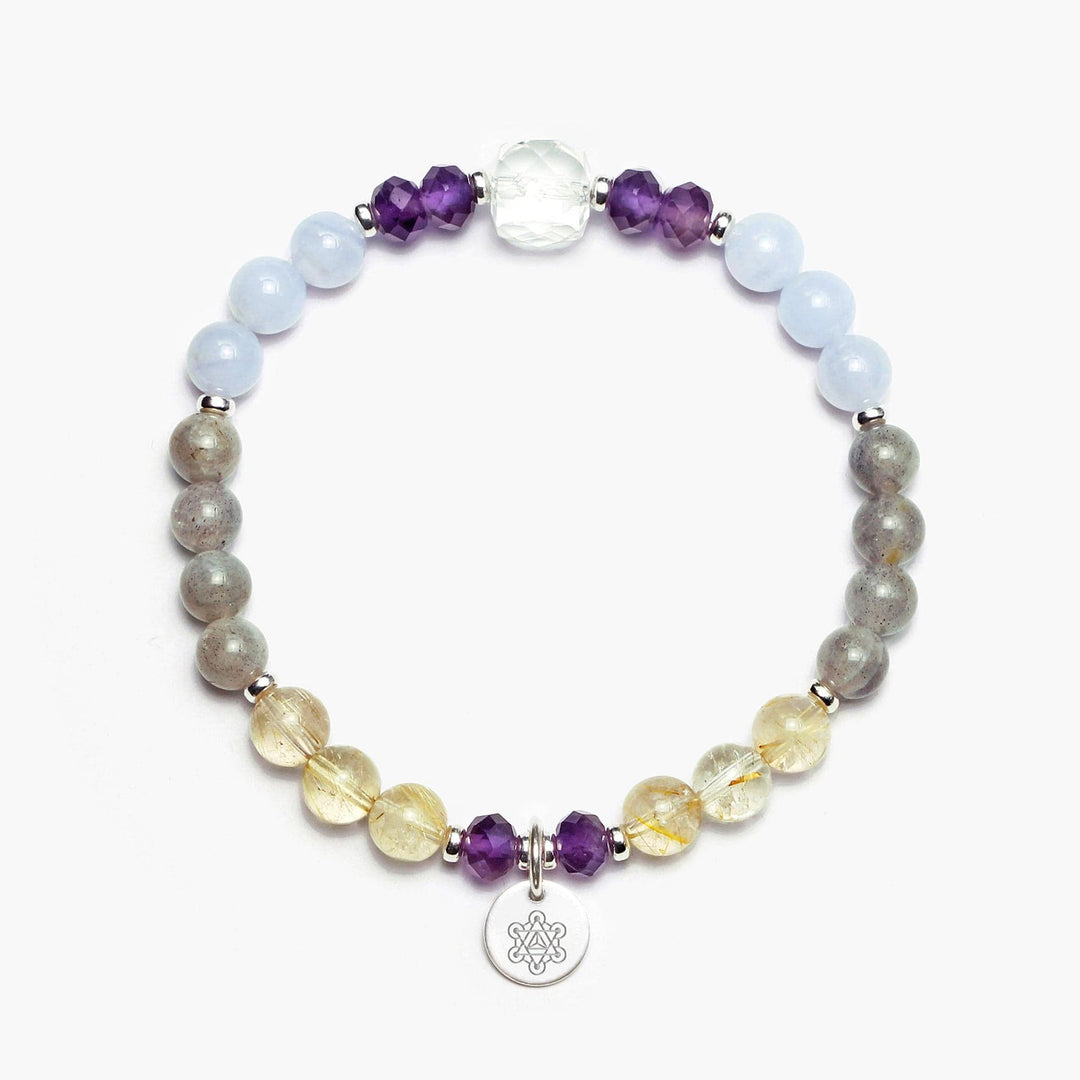 Anxiety Crystal Healing Bracelet
---
Our anxiety healing bracelet features a powerful combination of anxiety crystals that will support and uplift you during times of fear, insecurity and pain. We've chosen Rutilated Quartz and Amethyst gemstones to induce calm, help take the edge off worries and to help with anxiety. Whilst mystical Labradorite and dreamy Blue Lace Agate are here to shield you from negativity and assist with self-expression. This healing bracelet will help you to feel more empowered every day.
Featuring 5 powerful crystals for anxiety:
Amethyst
This much loved gem has potent properties for stabilising moods. Whether emotional highs and lows or an overactive mind, trust Amethyst's calming energy to restore the body to its natural state. A powerful alchemist, this crystal cleanses the aura, easing feelings of anxiety and depression. Call on this empowering stone to also help with insomnia, headaches and tension.

Rutilated Quartz
A potent crystal for stimulating the Solar Plexus Chakra, Rutilated Quartz assists with forgiveness and letting go of the past by removing low vibrational, blocked emotions from the body's energy field. This light and joyful stone targets the root cause of ailments, taking the edge off worries and anxieties. Wear this stone to transform fear into unconditional love and self-acceptance.
Labradorite
The gemstone for dreamers, mystical and iridescent Labradorite is a powerful stone for transformation. Known for its strong and protective energy, this crystal creates a shield around the body, steering negative energies away from the aura. This unique gem boosts positive mentality whilst also dissolving fears, stress, anxiety, and illusions.

Blue Lace Agate
Calming Blue Lace Agate will align your body with peace and harmony. A wonderful tool for the Throat Chakra, this beautiful blue stone is great for self-expression and helps to release suppressed emotions. You can rely on Blue Lace Agate's soothing energy to transform old, negative thought patterns into new ones and balance feelings of judgement and anxiety.
Clear Quartz Power Crystal
No bracelet is complete without our power crystal; Clear Quartz! It's well known as a master healer, amplifying the healing properties of every other crystal it's paired with. This stone aligns all seven chakras of your energy field, offering balance and harmony to your whole body. With its striking, clear appearance, it's a powerful choice for supporting all ailments & conditions.
Metatrons Cube Symbol
Discover the transformative essence of Metatron's Cube, a sacred geometry symbol known for its profound healing and spiritual energies. Its shapes and patterns are linked to frequencies and high vibrations that balance and align chakras, release blockages, and improve well-being. By incorporating this intricate symbol into our bracelet designs, you can harness its energy to deepen and strengthen your healing journey as you wear it.
---
Included with your bracelet...
Our beautiful Healing Bracelets feature 6mm gemstone beads & come in 3 sizes!
Small (16cm/6.29")
Medium (18cm/7.08")
Large (20cm/7.87")
Choosing your size
No measuring tape? No problem! Wrap a piece of string around your wrist, mark where the end meets the beginning, and measure it against a ruler. Add 1cm for a comfortable fit, or 2cm for it to hang loose on your wrist.
Not finding the right fit? Reach out; we can customise one smaller/larger especially for you!
Despatch times
Our crystal healing bracelets are made-to-order – we'll work our magic and get them dispatched within 1-2 days after checkout!
UK DELIVERY - £2.49
We'll send your parcel via Standard Royal Mail Signed for/Tracked 24 – all tracked with extra cover.
Shipping Duration
1–3 working days (you may need to sign).
INTERNATIONAL DELIVERY - £7.50
Your package will be securely posted with Royal Mail International Tracked or Signed.

Europe: 3-5 working days
Everywhere Else: 5-7 working days
FREE SHIPPING
Yay! Spend £50 (UK) or £75 (international) and we'll upgrade your order to free shipping with tracking. Your tracking link arrives when we despatch.