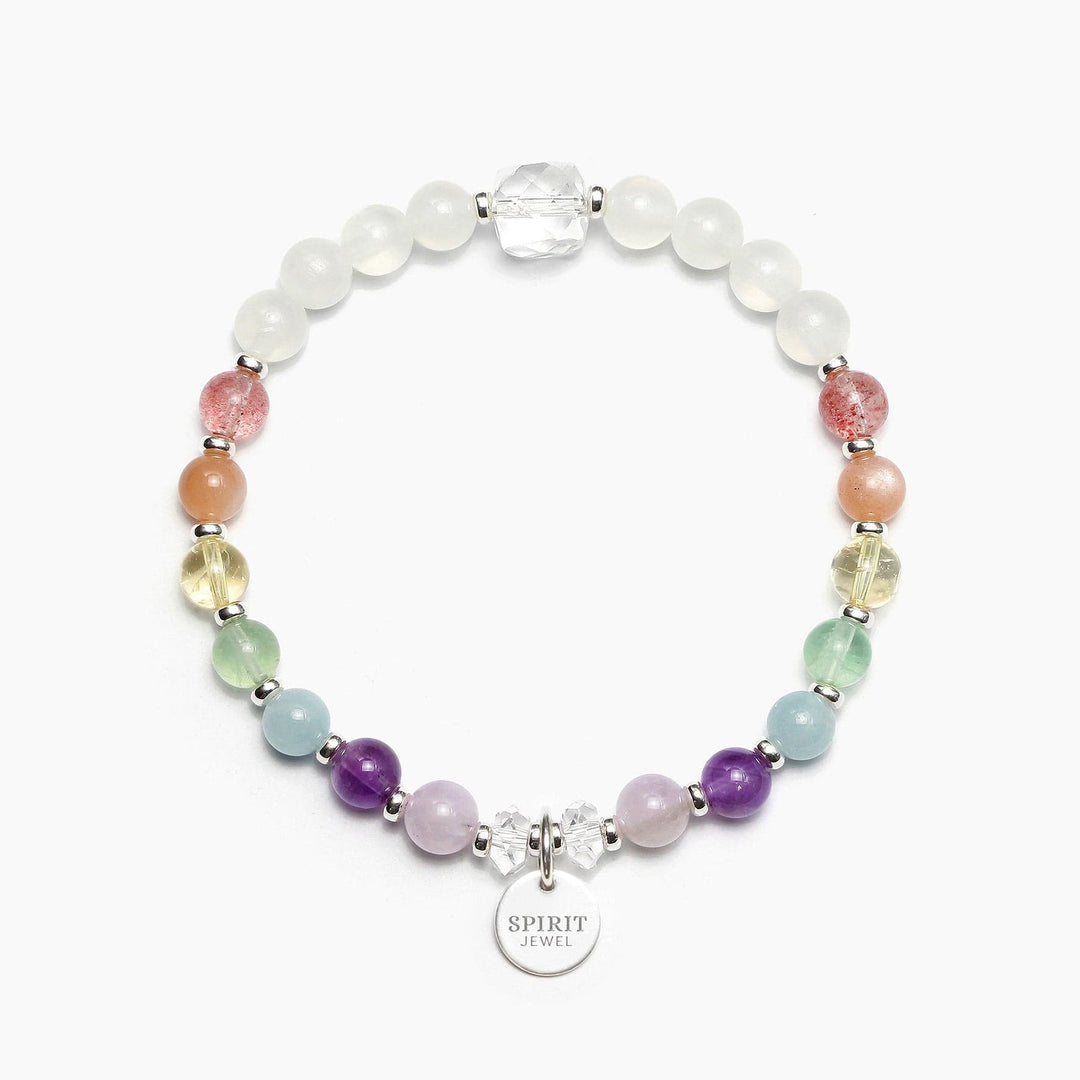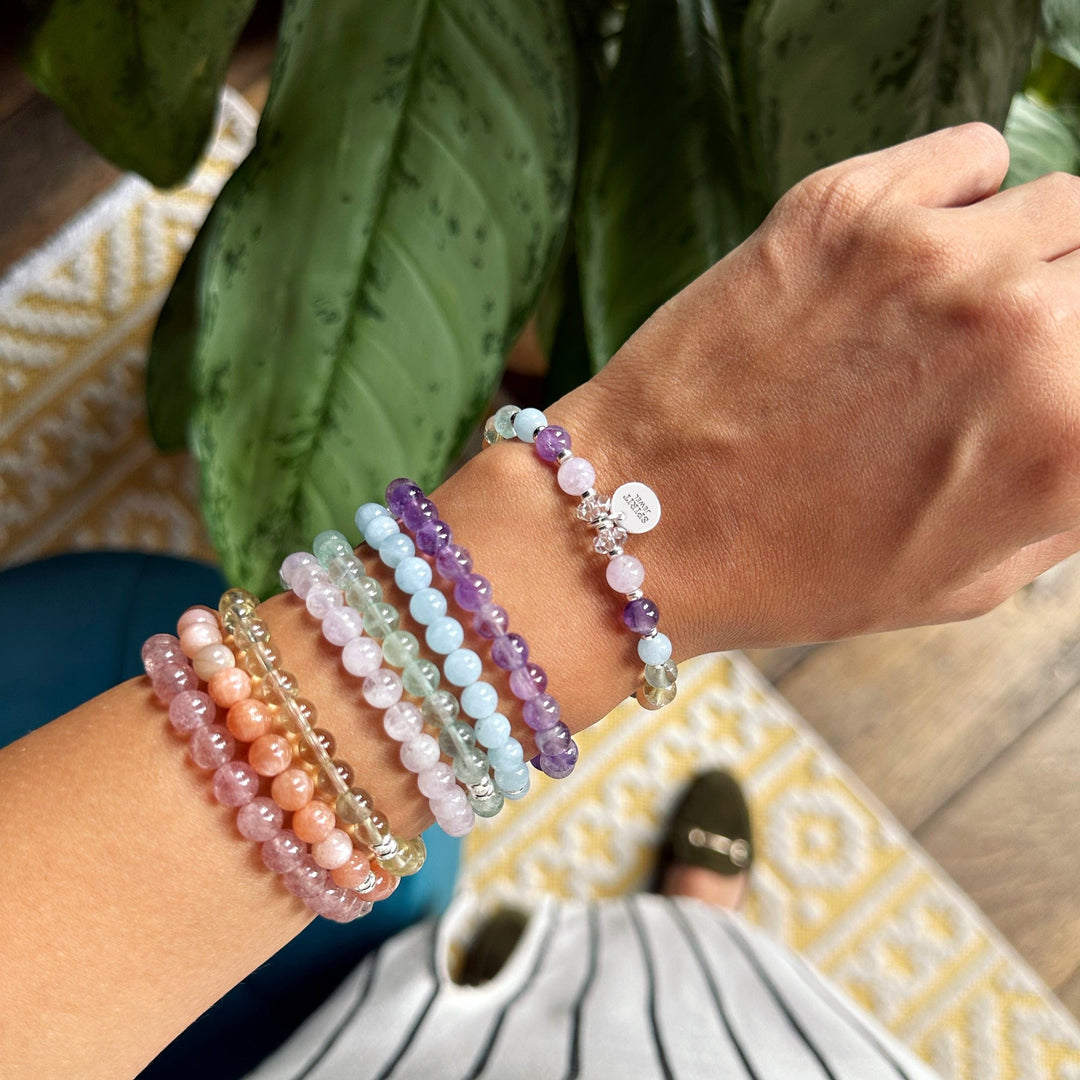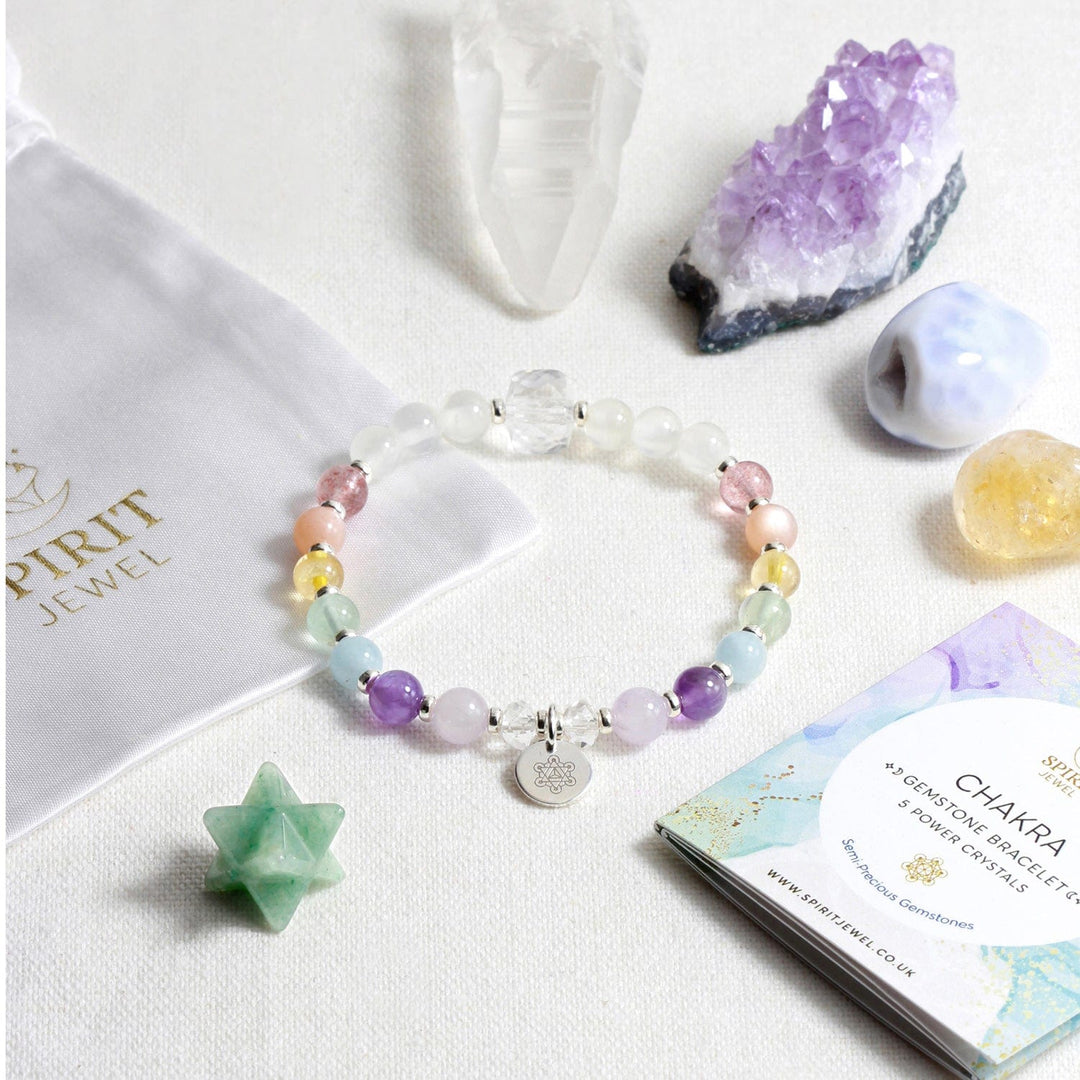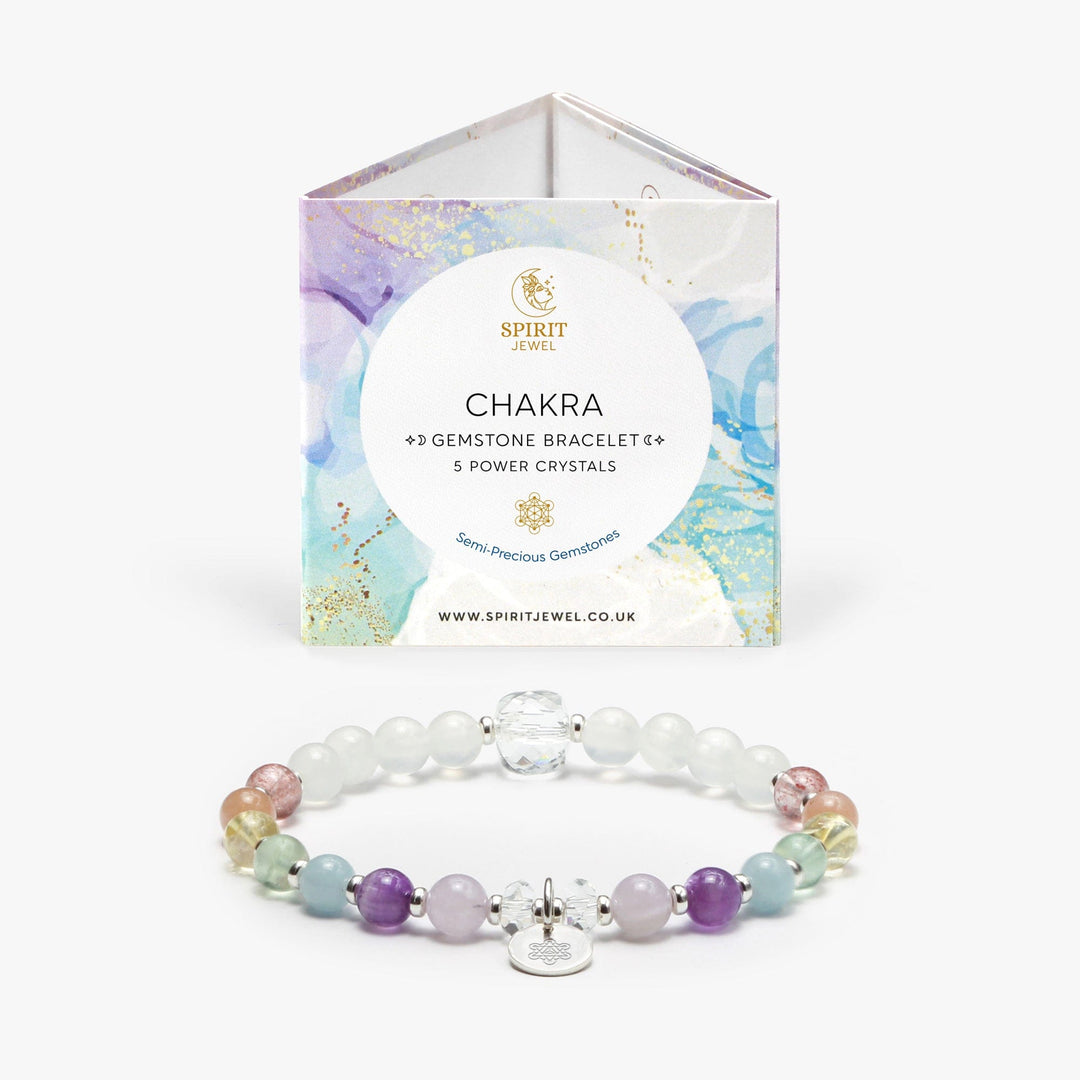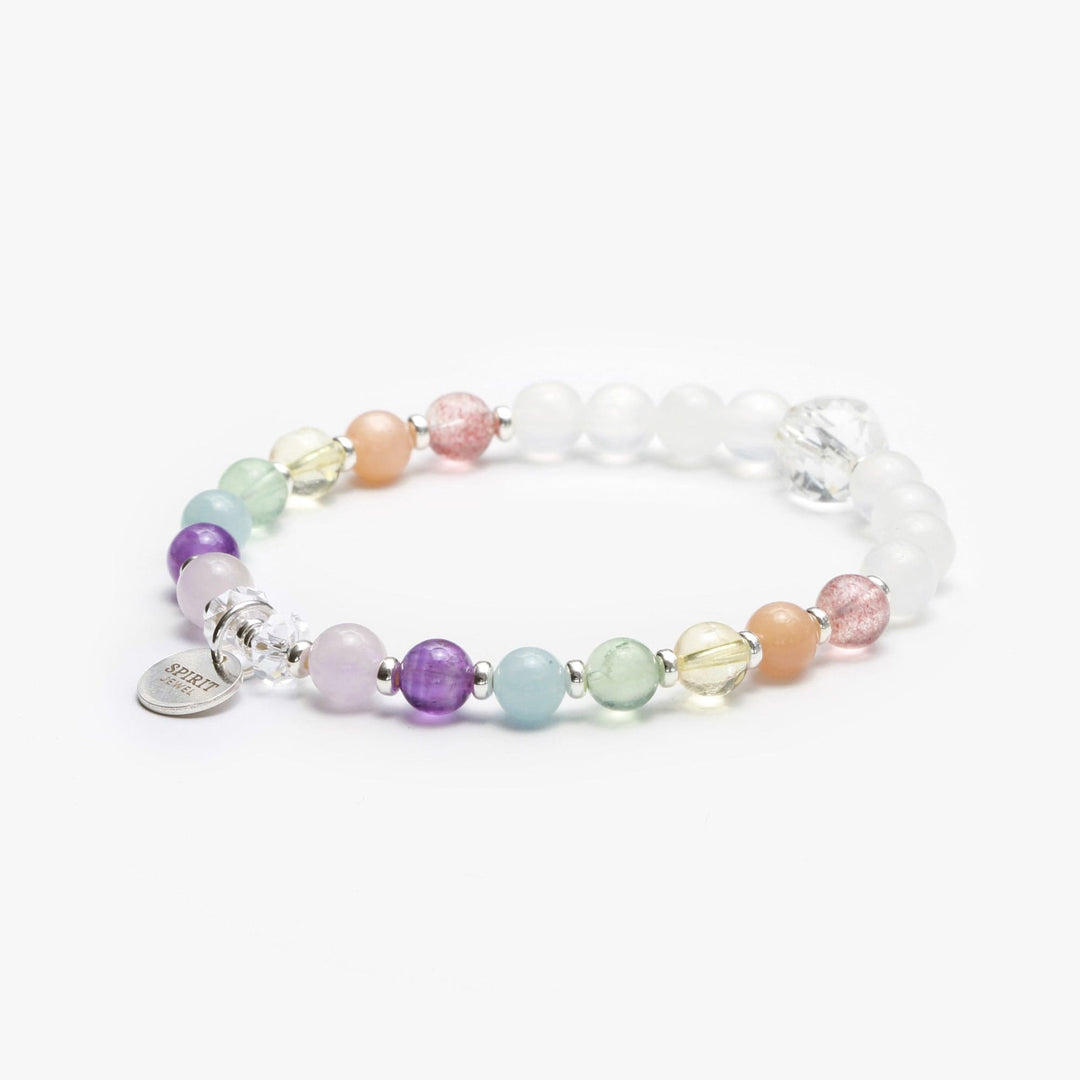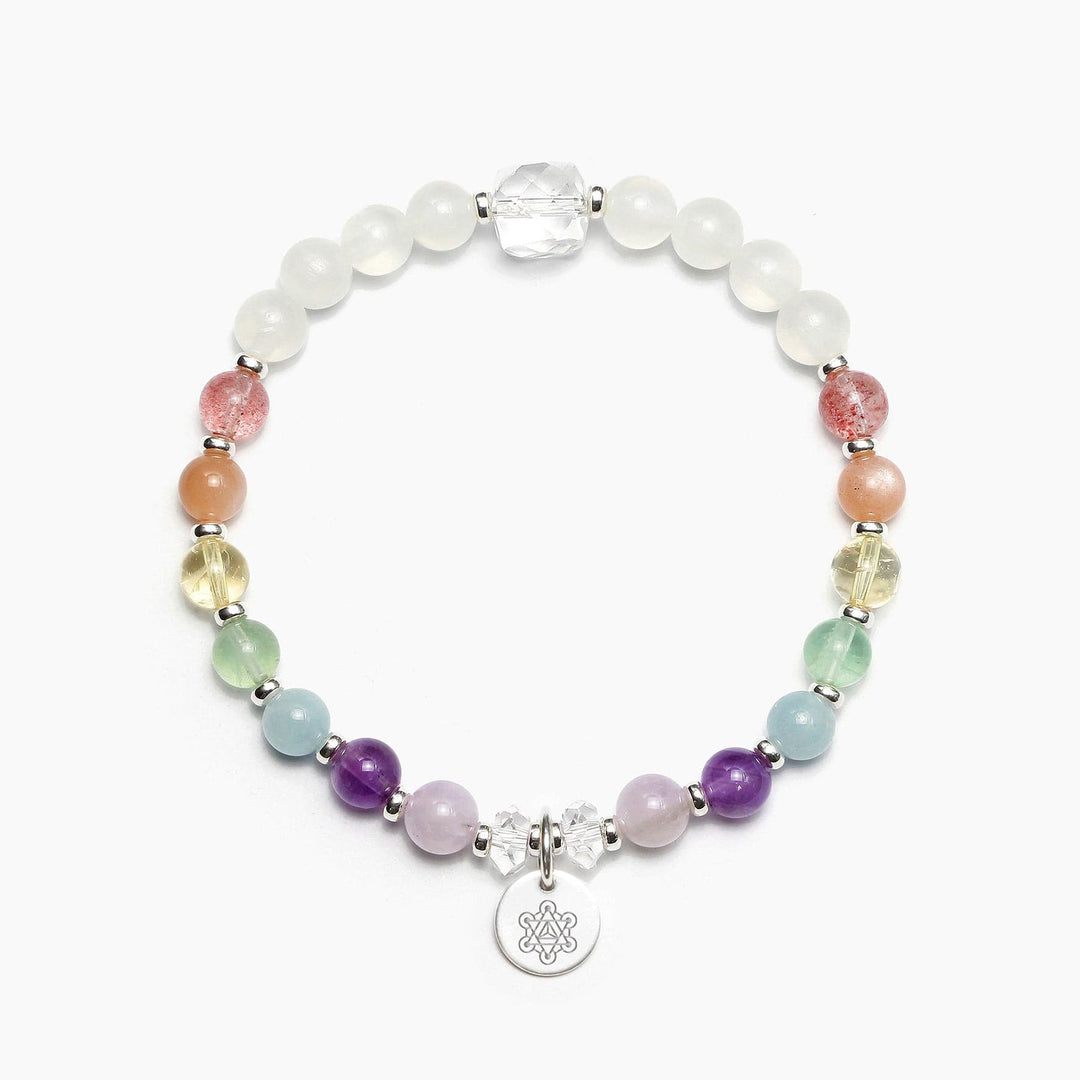 Chakra Crystal Healing Bracelet
---
Made with vibrant chakra crystals, wear our chakra crystal healing bracelet to balance the seven main energy centres within the body. When there is an energy blockage, our bodies can feel out of alignment, so it's important to help support the chakras with crystals that promote energy healing and flow.
We have carefully selected 7 chakra stones including Lavender Amethyst, Amethyst, Aquamarine, Green Fluorite, Citrine, Peach Moonstone, and Strawberry Quartz to complete our beautiful chakra bracelet. Working together to keep the body in a balanced state and prevent dis-ease, this healing bracelet helps with opening the heart, pineal gland and third eye, creating strong support to all of the chakras.
Featuring 7 powerful crystals for chakra healing:
Lavender Amethyst - Crown Chakra
Lavender Amethyst's gentle vibrations stimulate the crown chakra, opening the gateway to spiritual enlightenment & higher realms of consciousness. Its soothing energy can help you connect to your intuition & inner wisdom.

Amethyst - Third Eye Chakra
Amethyst's divine energy stimulates the third eye chakra, unlocking your intuitive and psychic abilities. Its high vibration enhances spiritual awareness, allowing you to connect with higher realms of consciousness & divine guidance.

Aquamarine - Throat Chakra
Aquamarine's cool blue energy stimulates and clears the throat chakra, encouraging honest communication and self-expression. It can help to overcome fears of speaking and assist in articulating feelings with clarity and confidence.

Green Fluorite - Heart Chakra
Green Fluorite's gentle yet powerful energy helps open and activate the Heart chakra, promoting emotional healing, healthy relationships with oneself and others, and encouraging compassion and forgiveness.

Citrine - Solar Plexus Chakra
A natural antidepressant, this soothing crystal harmonises root causes of blocked emotions in the Solar Plexus Chakra. Encouraging energy flow, Citrine opens the aura to allow healing & alleviates fears, anxiety & shame.

Peach Moonstone - Sacral Chakra
Peach Moonstone, with its pearly sheen has gentle yet powerful energy that stimulates the Sacral chakra, enhancing emotional balance, creativity, and intuition, promoting sensuality, and encouraging inner strength.

Strawberry Quartz - Root/Base Chakra
Strawberry Quartz's fiery energy resonates with the Root chakra, grounding and stabilising emotions, promoting self-love, and inspiring a sense of safety and stability on one's spiritual journey.
Clear Quartz Power Crystal
No bracelet is complete without our power crystal; Clear Quartz! It's well known as a master healer, amplifying the healing properties of every other crystal it's paired with. This stone aligns all seven chakras of your energy field, offering balance and harmony to your whole body. With its striking, clear appearance, it's a powerful choice for supporting all ailments & conditions.
Metatrons Cube Symbol
Discover the transformative essence of Metatron's Cube, a sacred geometry symbol known for its profound healing and spiritual energies. Its shapes and patterns are linked to frequencies and high vibrations that balance and align chakras, release blockages, and improve well-being. By incorporating this intricate symbol into our bracelet designs, you can harness its energy to deepen and strengthen your healing journey as you wear it.
---
Included with your bracelet...
Our beautiful Healing Bracelets feature 6mm gemstone beads & come in 3 sizes!
Small (16cm/6.29")
Medium (18cm/7.08")
Large (20cm/7.87")
Choosing your size
No measuring tape? No problem! Wrap a piece of string around your wrist, mark where the end meets the beginning, and measure it against a ruler. Add 1cm for a comfortable fit, or 2cm for it to hang loose on your wrist.
Not finding the right fit? Reach out; we can customise one smaller/larger especially for you!
Despatch times
Our crystal healing bracelets are made-to-order – we'll work our magic and get them dispatched within 1-2 days after checkout!
UK DELIVERY - £2.49
We'll send your parcel via Standard Royal Mail Signed for/Tracked 24 – all tracked with extra cover.
Shipping Duration
1–3 working days (you may need to sign).
INTERNATIONAL DELIVERY - £7.50
Your package will be securely posted with Royal Mail International Tracked or Signed.

Europe: 3-5 working days
Everywhere Else: 5-7 working days
FREE SHIPPING
Yay! Spend £50 (UK) or £75 (international) and we'll upgrade your order to free shipping with tracking. Your tracking link arrives when we despatch.