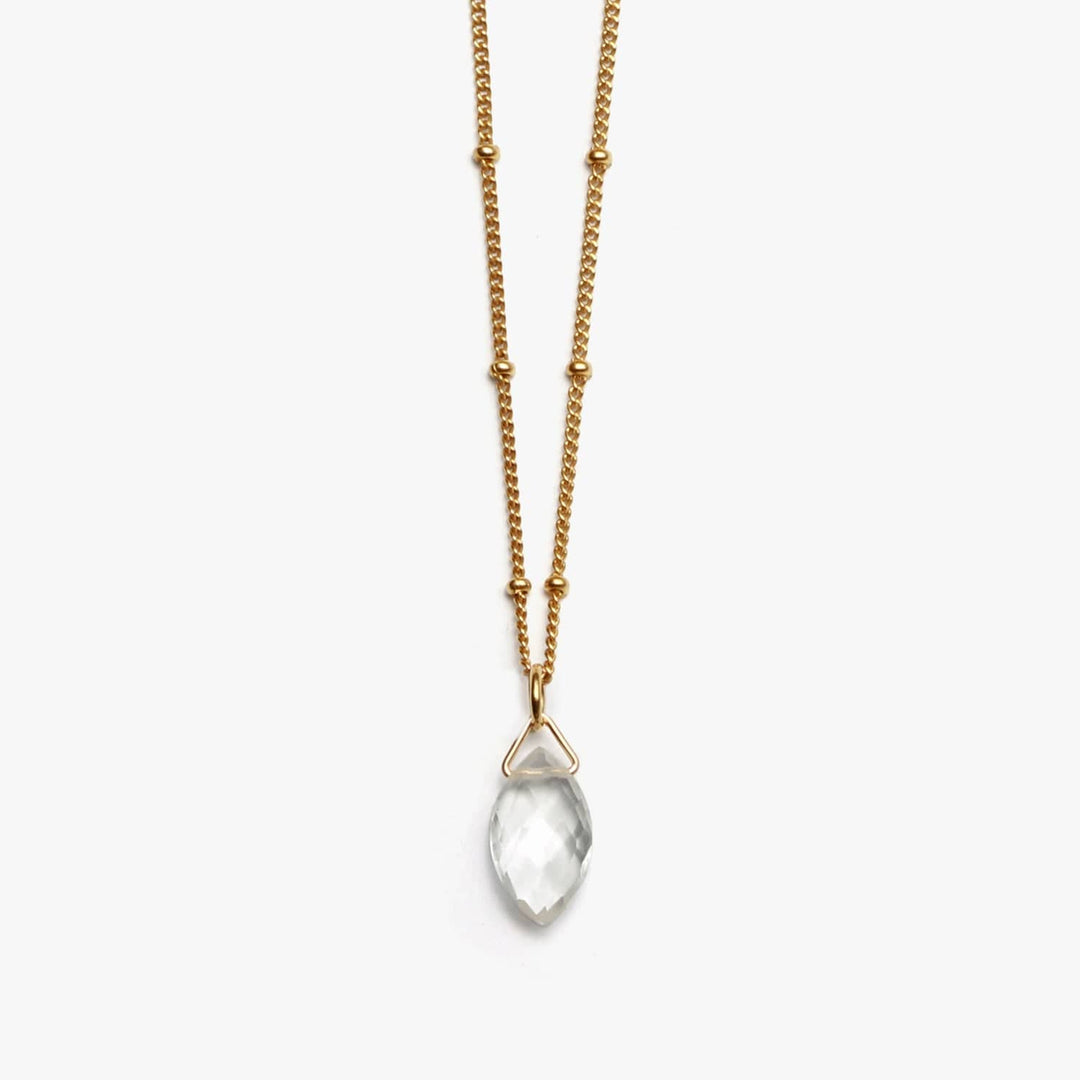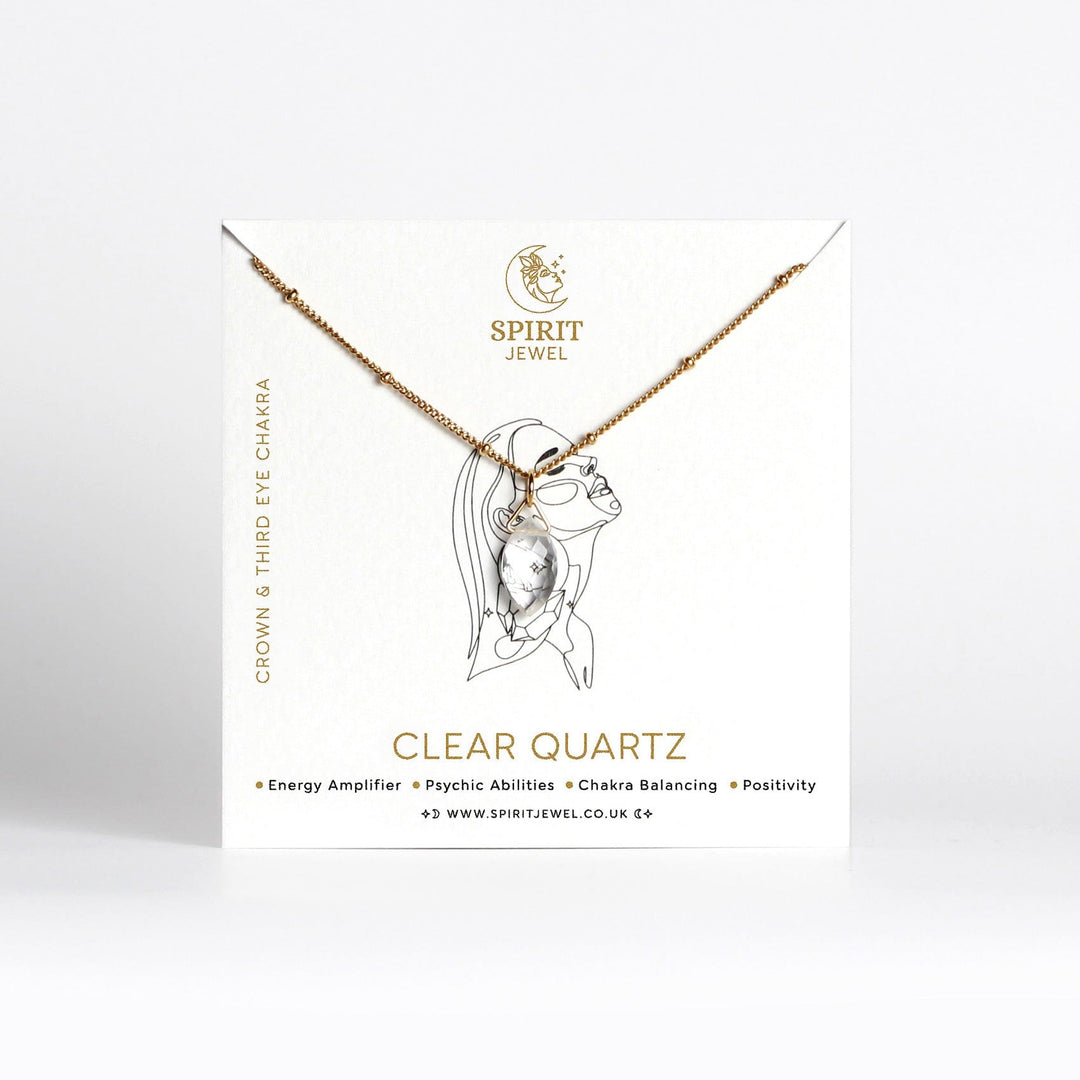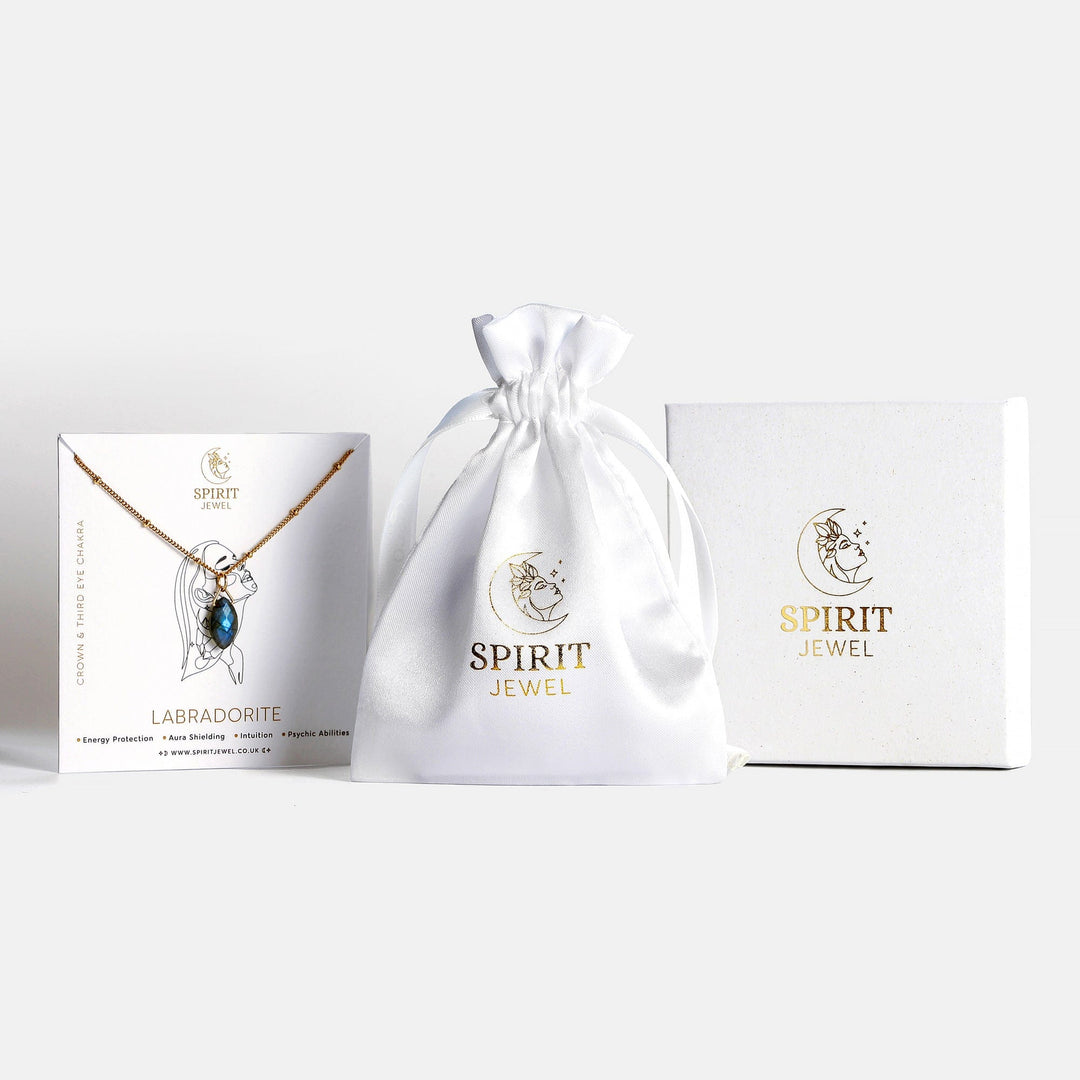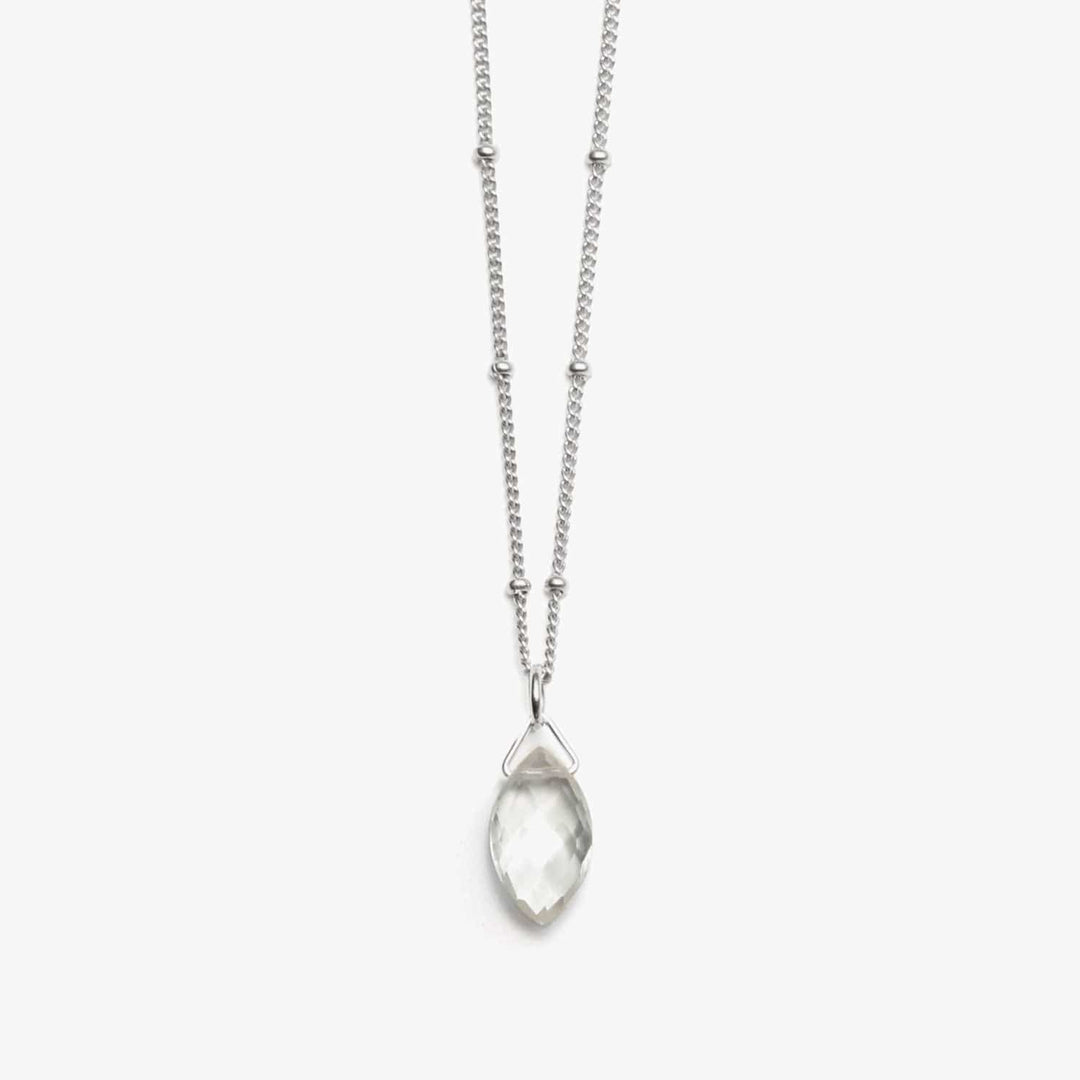 Clear Quartz Crystal Necklace
---
Add a touch of clarity and focus to your look with our Clear Quartz Crystal Necklace. Made from genuine Clear Quartz, this pendant is said to promote energy amplification, chakra balance, and positivity. It is the perfect way to elevate your wardrobe and help you make decisions with confidence.

Subtle yet elegant, this necklace features a Clear Quartz pendant suspended from a gold satellite chain. The Clear Quartz pendant is a symbol of purity and clarity, while the gold satellite chain adds a touch of luxury.

Wear your Clear Quartz Crystal Necklace daily or during spiritual rituals, meditations, or when practicing positive affirmations to absorb its healing properties. As you wear or touch the pendant, visualise a white light surrounding you and ask for the healing you desire. This light will raise your vibration and bring protection, purification, and healing energy. State your positive affirmations or intentions while visualising this white light.

Clear Quartz Healing Properties:
Every Amplifier
Clear Quartz, a potent energy amplifier, elevates the body's vibrational frequency, promoting well-being and clarity. It enhances the manifestation of positive intentions and amplifies the healing energies of surrounding crystals.

Psychic Abilities
With its powerful energy, Clear Quartz is believed to enhance psychic abilities, including intuition and clairvoyance. It can clear the mind and increase spiritual awareness, facilitating a deeper connection with the divine.

Chakra Balancing
As a master healer, Clear Quartz is widely used for balancing and aligning the chakras for optimal energy flow throughout the body. It is also highly valued for its purifying properties, which can help cleanse and repair the aura.
Positivity
Clear Quartz is a powerful crystal that promotes positive energy, uplifting and invigorating the spirit. Its ability to amplify positive thoughts and dispel negativity makes it a popular choice for promoting a sense of optimism and clarity.
Features
Crystal Type: Clear Quartz
Crystal Size: 12x6mm marquise-shape
Chain Length: Choose from 14", 16", 18", or 20" 
Chain Type: Gold filled satellite chain with lobster clasp
Packaging: Eco-friendly gift box
Crystal Meanings Card: Includes card with information on the healing properties of Clear Quartz

Order your Clear Quartz Crystal Necklace today and embark on a journey of empowerment and clarity with its energy amplifying healing  properties!
Our beautiful Crystal Necklaces feature a 12x7mm crystal pendant, with 4 chain lengths to choose from:
14" (35.5cm)
16" (40.6cm)
18" (45.7cm)
20" (50.8cm)
Choosing your size
No measuring tape? No problem! Loosely wrap a piece of string around your neck, mark where the end meets the beginning, and measure it against a ruler. Add 1cm for a comfortable fit, or 2cm for it to hang a bit looser. Check our size-guide for more info.
Despatch times
Our crystal healing bracelets are made-to-order – we'll work our magic and get them dispatched within 1-2 days after checkout!
UK DELIVERY - £2.49
We'll send your parcel via Standard Royal Mail Signed for/Tracked 24 – all tracked with extra cover.
Shipping Duration
1–3 working days (you may need to sign).
INTERNATIONAL DELIVERY - £7.50
Your package will be securely posted with Royal Mail International Tracked or Signed.

Europe: 3-5 working days
Everywhere Else: 5-7 working days
FREE SHIPPING
Yay! Spend £50 (UK) or £75 (international) and we'll upgrade your order to free shipping with tracking. Your tracking link arrives when we despatch.