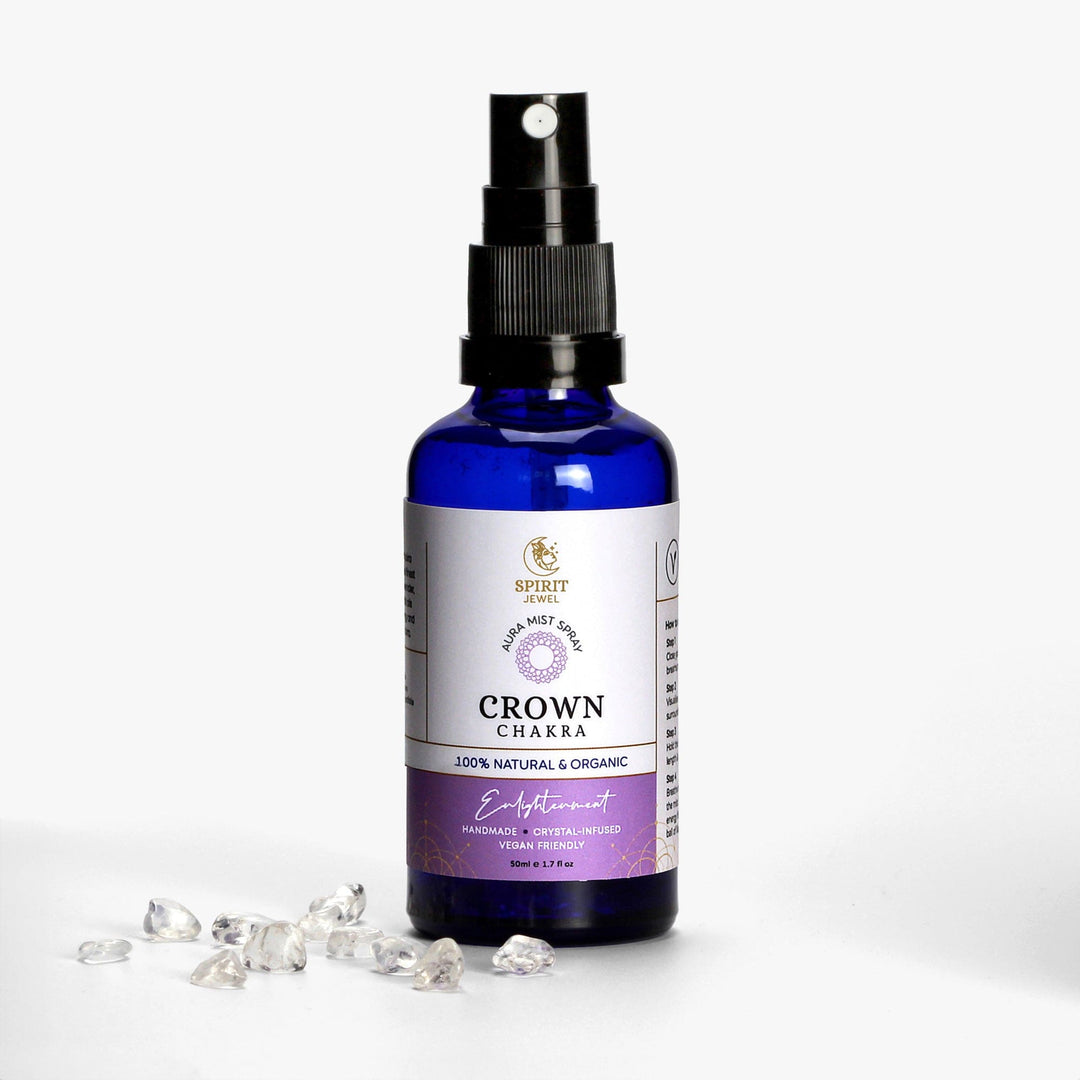 Crown Chakra Aura Mist Spray
---
Unveil the gateway to spiritual enlightenment with our Crown Chakra Aura Mist Spray. This divine, energy-cleansing smudge spray is handcrafted with the purest organic Frankincense, Lavender, and Sandalwood essential oils to release a symphony of healing energies within your Crown Chakra.
Frankincense, with its woody and resinous notes, invokes ancient wisdom and purification for the mind. Lavender's soothing floral aroma promotes tranquility and balance. Sandalwood's warm and earthy scent nurtures spiritual connection and mindfulness.
Included in every Aura Mist are precious Clear Quartz crystals, exceptional energy amplifiers. These high-vibrational crystals harmonise with the essential oils, effectively balancing and realigning the Crown Chakra. They dissolve blockages and nurture a renewed sense of purpose and spiritual connection.
Recharge & heal your aura's energy and enhance your daily rituals, meditation, or yoga practices with a spritz of our Crown Chakra Aura Spray. Embrace the calmness and boundless potential of a balanced Crown Chakra, and step into a realm of profound spiritual growth and enlightenment.
What is the Crown Chakra?
The Crown Chakra, also known as the Sahasrara Chakra, is the seventh and highest chakra in the body. It is located at the top of the head and is associated with the colour violet or white. The Crown Chakra relates to spirituality, enlightenment, and connection to the divine. When the crown chakra is balanced, we feel a sense of peace, connection, and purpose. We are also more open to intuition and spiritual insights.
Signs of an Unbalanced Crown Chakra
- Feeling disconnected from your spirituality
- Feeling lost or without purpose
- Lack of creativity or inspiration
- Feeling isolated or alone
- Difficulty making decisions
- Feeling overwhelmed by the world
The Crown Chakra is a powerful energy centre that can help us connect to our higher selves and the divine. Using essential oils to simulate energy-flow to the Crown Chakra, we can open ourselves up to a deeper level of peace, love, and understanding.
Size
50ml glass spray bottle.
---
Holistic Healing Made Simple
Our Aura Mists are made with 100% natural, certified organic essential oils. They are free from chemicals, preservatives, and alcohol. Spritz with confidence, knowing that you're nurturing your energy with 100% pure, healing goodness straight from nature.
Step 1
Close your eyes and take a few deep breaths to center & ground yourself.
Step 2
Visualise a vibrant ball of lilac light surrounding your entire body.
Step 3
Hold the balancing mist about arm's length & spritz around your aura.
Step 4
Breathe deeply, inhaling the scent of the mist. Allow it to settle into your energy field whilst you visualise the ball of lilac light expanding.
Crown Chakra Aura Mist Spray
Aqua (water), Boswellia Serrata (Frankincense)*, Santalum Album (Sandalwood)*, Lavandula Angustifolia (Lavender)* essential oils. *Certified Organic
Caution
For external use only. Please avoid contact with eyes. If any irritation occurs, discontinue use. If pregnant, consult a healthcare professional before use.
Despatch times
We'll work our magic to get your precious healing goodies dispatched within 1-2 days after checkout.
UK DELIVERY - £2.49
We'll send your parcel via Standard Royal Mail Signed for/Tracked 24 – all tracked with extra cover.
Shipping Duration
1–3 working days (you may need to sign).
INTERNATIONAL DELIVERY - £7.50
Your package will be securely posted with Royal Mail International Tracked or Signed.

Europe: 3-5 working days
Everywhere Else: 5-7 working days
FREE SHIPPING
Yay! Spend £50 (UK) or £75 (international) and we'll upgrade your order to free shipping with tracking. Your tracking link arrives when we despatch.