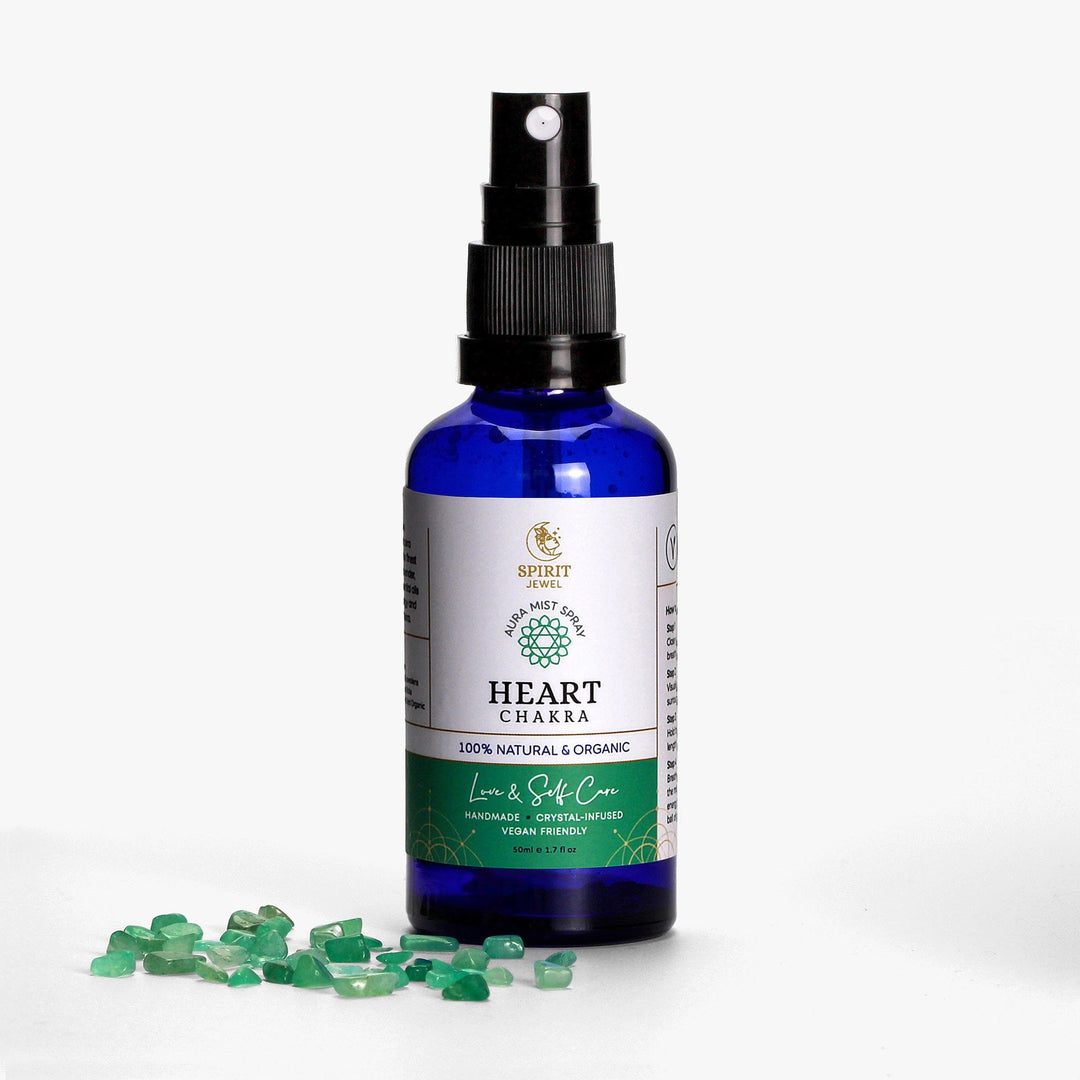 Heart Chakra Aura Mist Spray
---
Experience the profound power of love and self-care with our Heart Chakra Aura Mist. This soothing, energy-cleansing smudge spray is handcrafted with the finest natural and organic Sandalwood, Lavender, and Rose Geranium oils. This loving and enchanting blend stimulates healing energy within the Heart Chakra.
Inhale the soothing scent of Sandalwood, radiating warmth and emotional balance. Lavender's calming floral notes promote mood enhancement and calmness, while Rose Geranium's sweet, rosy aroma encourages romantic and sensual feelings.
Located in the chest, the Heart Chakra symbolises love, relationships, and compassion. With each spray, our handmade elixir nurtures this vibrant green energy centre, promoting deeper connections and overall well-being. Infused with Green Aventurine Crystals, renowned for their heart-healing properties, these gems empower the Heart Chakra to radiate heightened vitality and energy.
Recharge & heal your aura's energy and enhance your daily rituals, meditation, or yoga practices with a spritz of our Heart Chakra Aura Mist. Embrace the harmony and compassionate energy of a balanced Heart Chakra, stepping into a realm of genuine connection and open-heartedness.
What is the Heart Chakra?
The heart chakra, also known as the anahata chakra, is the fourth chakra in the body. It is located in the center of the chest and is associated with the colour green. It is associated with love, compassion, and forgiveness. When the Heart Chakra is balanced, we feel loving, compassionate, and accepting of ourselves and others. We are also able to give and receive love freely.
Signs of an Unbalanced Heart Chakra
- Feeling closed off to love
- Difficulty expressing emotions
- Holding on to anger or resentment
- Heart problems, such as chest pain or high blood pressure
The Heart Chakra is a powerful energy centre that can help us connect with our own love and compassion, as well as the love of others. Using essential oils to simulate energy-flow to the Heart Chakra, we can open ourselves up to a deeper level of emotional well-being and connection.
Size
50ml glass spray bottle.
---
Holistic Healing Made Simple
Our Aura Mists are made with 100% natural, certified organic essential oils. They are free from chemicals, preservatives, and alcohol. Spritz with confidence, knowing that you're nurturing your energy with 100% pure, healing goodness straight from nature.
Step 1
Close your eyes and take a few deep breaths to center & ground yourself.
Step 2
Visualise a vibrant ball of lilac light surrounding your entire body.
Step 3
Hold the balancing mist about arm's length & spritz around your aura.
Step 4
Breathe deeply, inhaling the scent of the mist. Allow it to settle into your energy field whilst you visualise the ball of green light expanding.
Heart Chakra Aura Mist Spray
Aqua (water), Santalum album (Sandalwood)*, Pelargonium Graveolens (Geranium)*, Lavandula Angustifolia (Lavender)* essential oils. *Certified Organic
Caution
For external use only. Please avoid contact with eyes. If any irritation occurs, discontinue use. If pregnant, consult a healthcare professional before use.
Despatch times
We'll work our magic to get your precious healing goodies dispatched within 1-2 days after checkout.
UK DELIVERY - £2.49
We'll send your parcel via Standard Royal Mail Signed for/Tracked 24 – all tracked with extra cover.
Shipping Duration
1–3 working days (you may need to sign).
INTERNATIONAL DELIVERY - £7.50
Your package will be securely posted with Royal Mail International Tracked or Signed.

Europe: 3-5 working days
Everywhere Else: 5-7 working days
FREE SHIPPING
Yay! Spend £50 (UK) or £75 (international) and we'll upgrade your order to free shipping with tracking. Your tracking link arrives when we despatch.