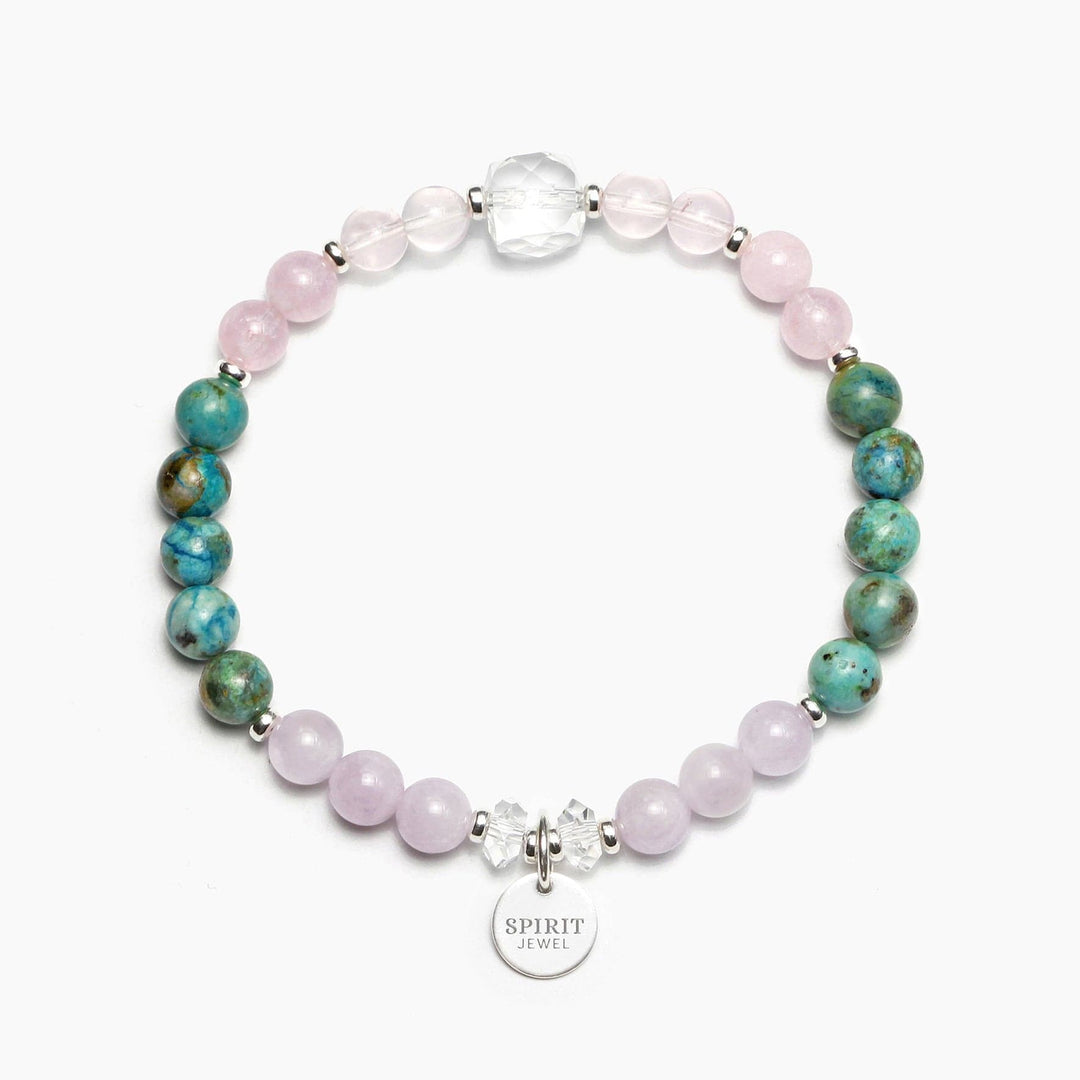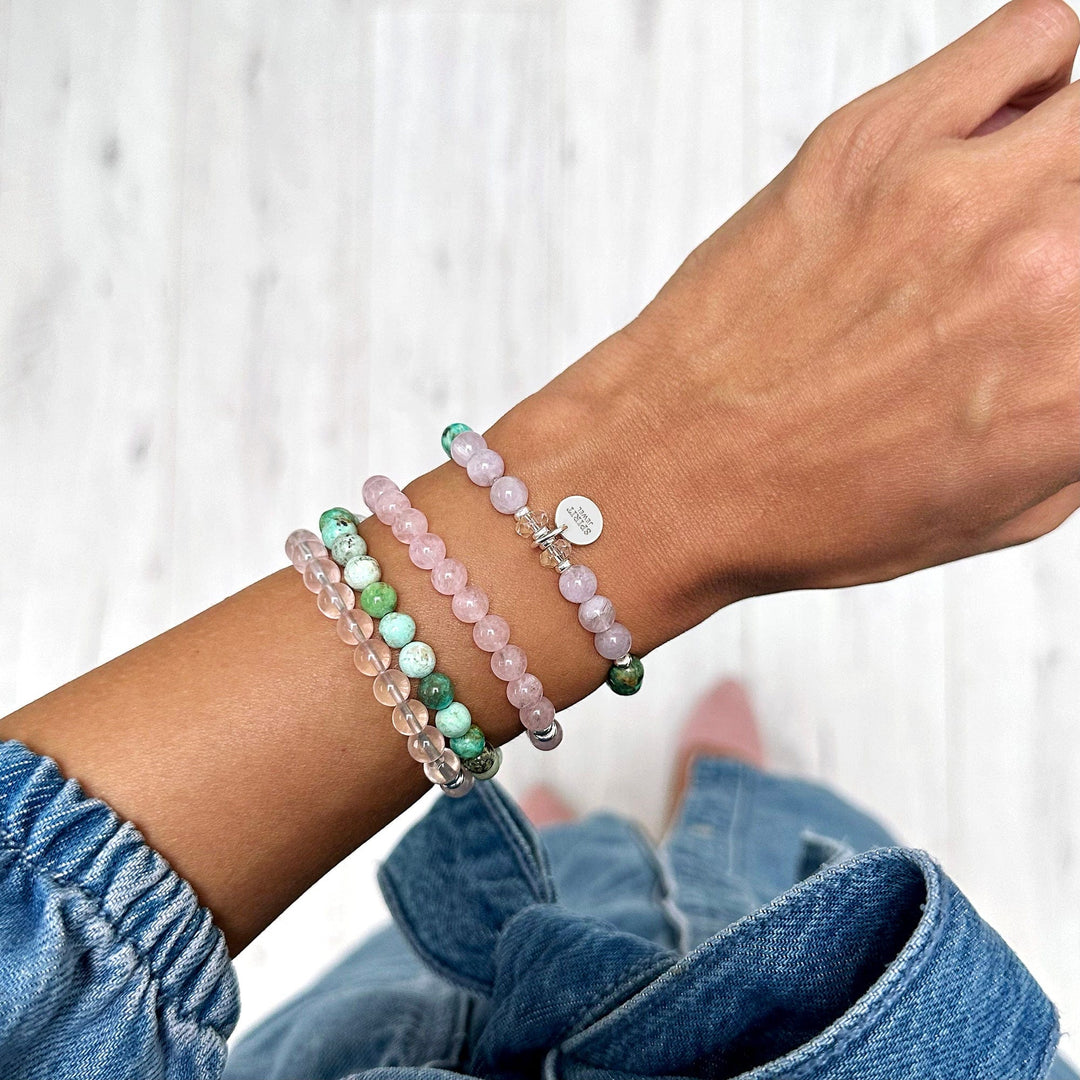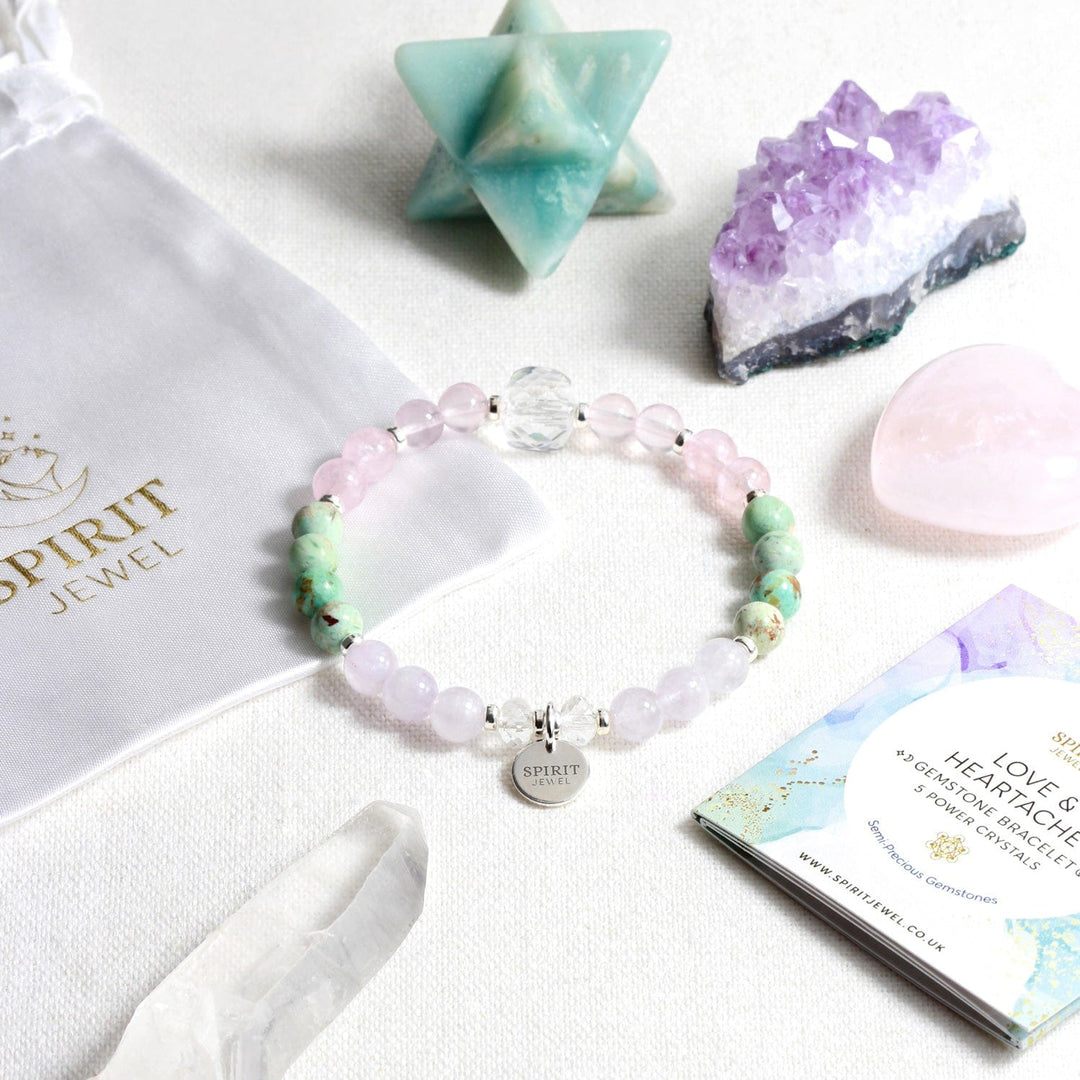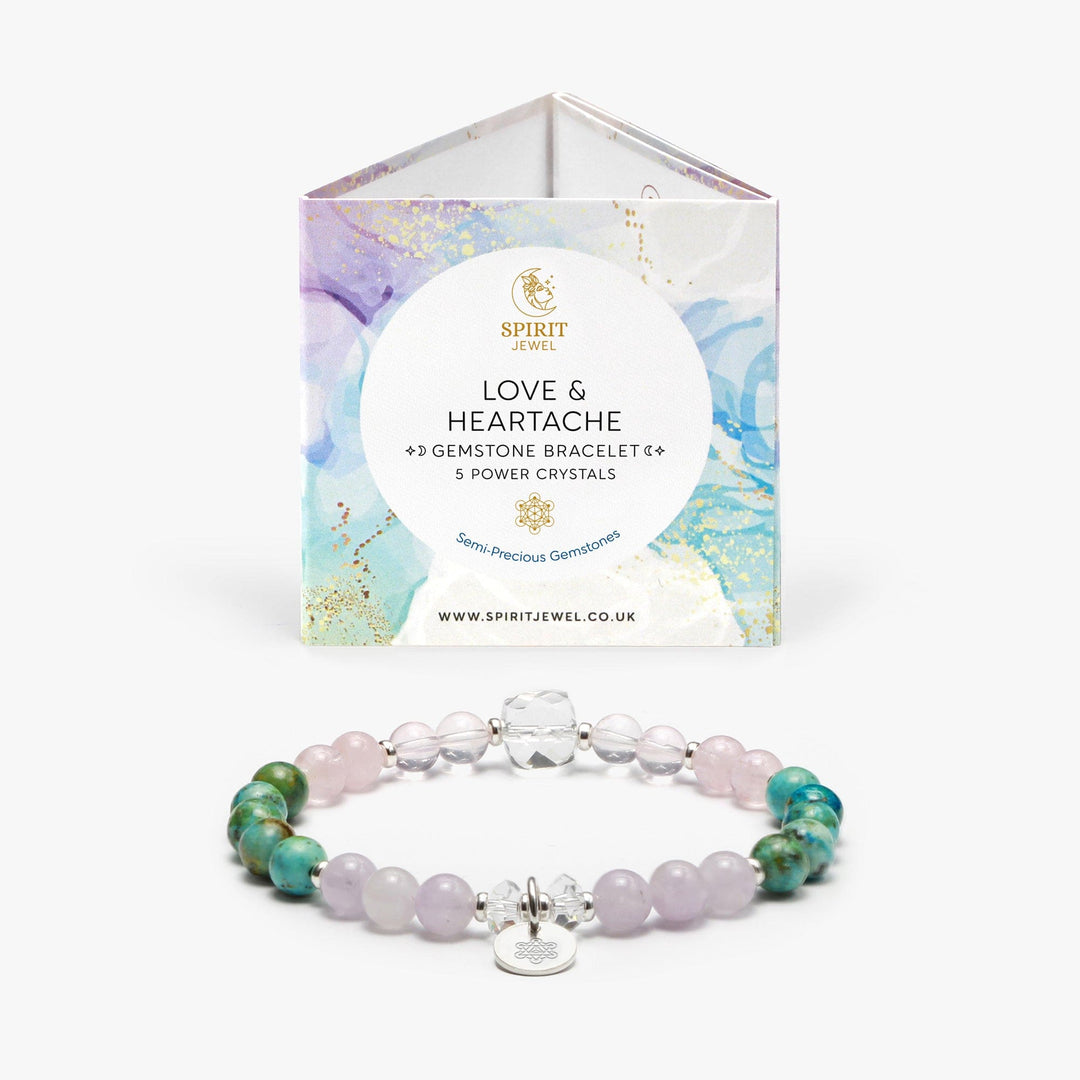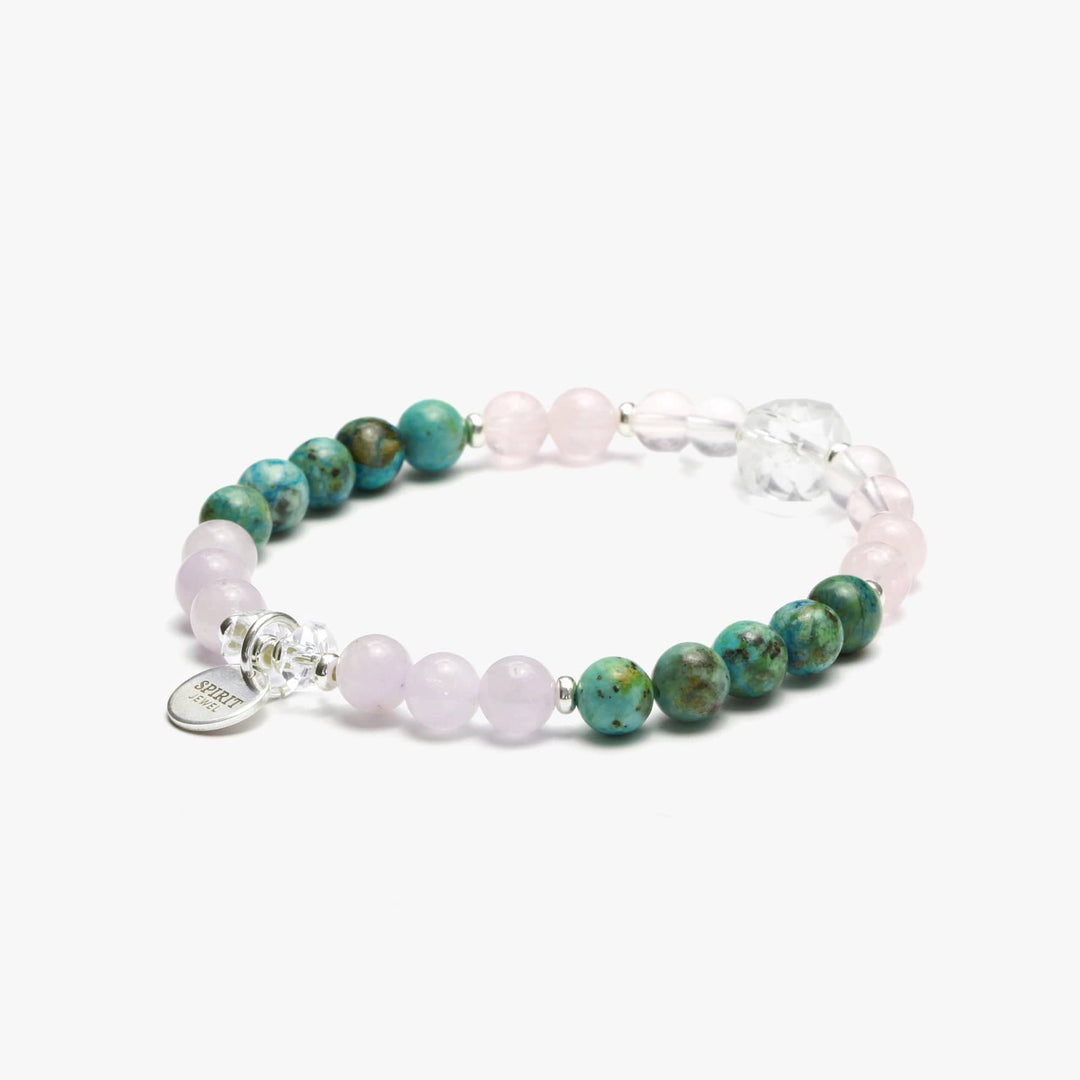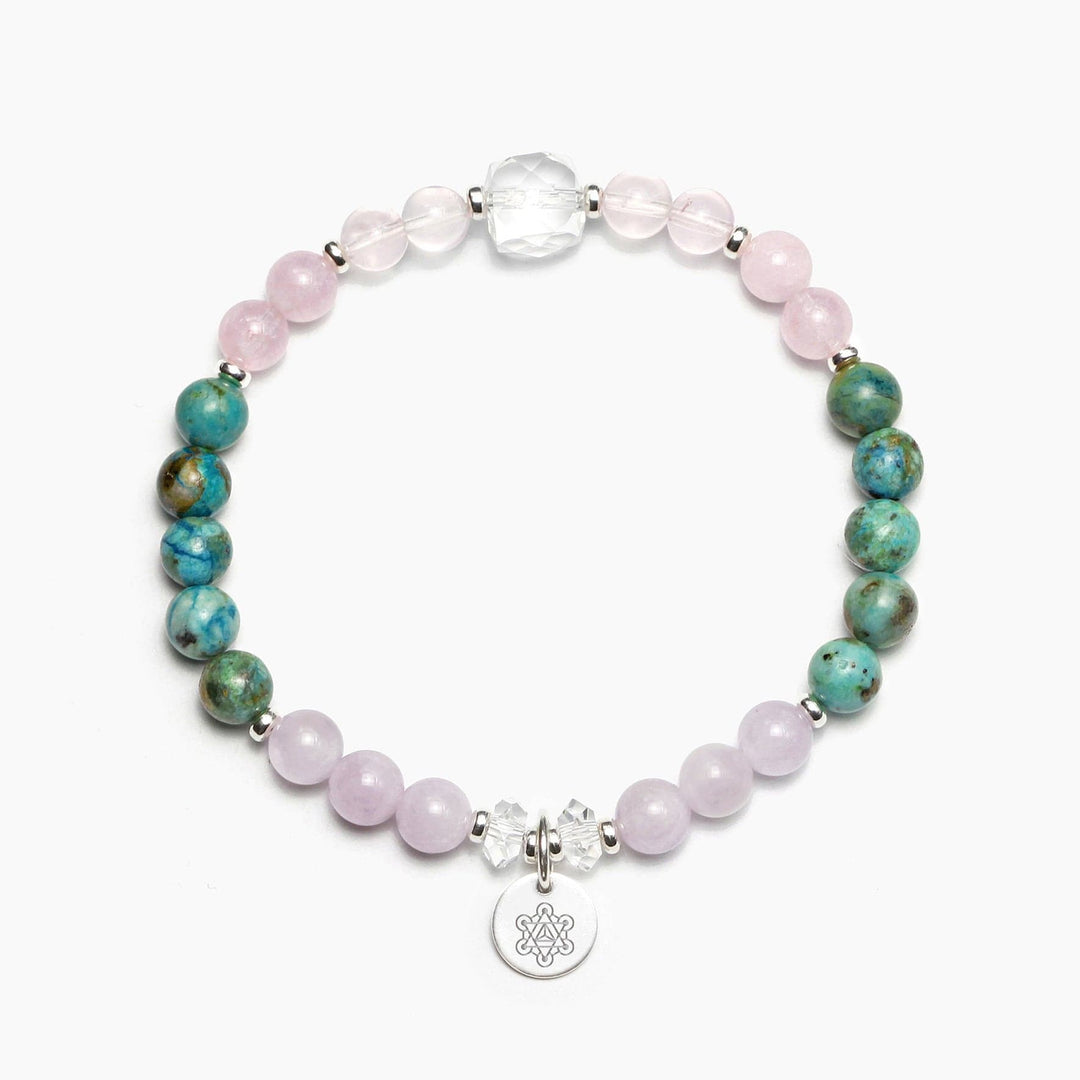 Love Crystal Healing Bracelet
---
This loving crystal healing bracelet will strengthen unconditional love and inner strength. Perfect for enhancing your own self-love or supporting you with attracting romantic love and healthy relationships, these love crystals offer a high vibration that restores balance, increases joy and opens the Heart Chakra. Created with 5 different crystals for love, the powerful combination of Rose Quartz, Morganite, Chrysocolla and Lavender Amethyst will help to heal painful heartache and work with your energy field to enhance the vibration of love.
This gemstone bracelet can be used alongside practising positive affirmations for love, increasing the energetic vibrations around the words. Precious rose quartz crystals will purify and enhance the energy around attracting new love and strengthening that connection with yourself.
Featuring 5 powerful crystals for love & heartbreak:
Rose Quartz
This pale pink goddess is here to bestow unconditional love and healing upon the wearer. Believed to be a gift from Cupid and Eros, this precious stone opens the heart chakra and heals painful wounds of heartache and loss. Radiating self-love, Rose Quartz is a powerful, purifying crystal that enhances the energy for attracting new romantic love and healthy relationships.

Lavender Amethyst
With its powerful healing properties, Lavender Amethyst has the ability to promote emotional healing, stabilise moods and alleviate heartache. Its calming effects can ease emotional pain, while its gentle yet potent vibrations encourage emotional balance, self-love, and spiritual growth. Let this stunning crystal be your guide towards a journey of wholeness and healing.

Morganite
A powerful heart chakra stone, beautiful Morganite is a compassionate crystal that gently clears away emotional shock and wounds after traumatic, heart-breaking events. This supportive stone provides powerful and loving healing that transforms high emotions and any co-dependency issues. Lean on Morganite to stimulate, activate and unblock the Heart Chakra.
Chrysocolla
With its dreamy hues, Enchanting Chrysocolla is the perfect crystal to call on for healing heartache and building inner strength. Wear this stone to restore calm and balance to your world and increase joy. When situations are up in the air, or there's healing to be done, this striking gem will support you, increasing your capacity to love and calming any mental tension.
Clear Quartz Power Crystal
No bracelet is complete without our power crystal; Clear Quartz! It's well known as a master healer, amplifying the healing properties of every other crystal it's paired with. This stone aligns all seven chakras of your energy field, offering balance and harmony to your whole body. With its striking, clear appearance, it's a powerful choice for supporting all ailments & conditions.
Metatrons Cube Symbol
Discover the transformative essence of Metatron's Cube, a sacred geometry symbol known for its profound healing and spiritual energies. Its shapes and patterns are linked to frequencies and high vibrations that balance and align chakras, release blockages, and improve well-being. By incorporating this intricate symbol into our bracelet designs, you can harness its energy to deepen and strengthen your healing journey as you wear it.
---
Included with your bracelet...
Our beautiful Healing Bracelets feature 6mm gemstone beads & come in 3 sizes!
Small (16cm/6.29")
Medium (18cm/7.08")
Large (20cm/7.87")
Choosing your size
No measuring tape? No problem! Wrap a piece of string around your wrist, mark where the end meets the beginning, and measure it against a ruler. Add 1cm for a comfortable fit, or 2cm for it to hang loose on your wrist.
Not finding the right fit? Reach out; we can customise one smaller/larger especially for you!
Despatch times
Our crystal healing bracelets are made-to-order – we'll work our magic and get them dispatched within 1-2 days after checkout!
UK DELIVERY - £2.49
We'll send your parcel via Standard Royal Mail Signed for/Tracked 24 – all tracked with extra cover.
Shipping Duration
1–3 working days (you may need to sign).
INTERNATIONAL DELIVERY - £7.50
Your package will be securely posted with Royal Mail International Tracked or Signed.

Europe: 3-5 working days
Everywhere Else: 5-7 working days
FREE SHIPPING
Yay! Spend £50 (UK) or £75 (international) and we'll upgrade your order to free shipping with tracking. Your tracking link arrives when we despatch.