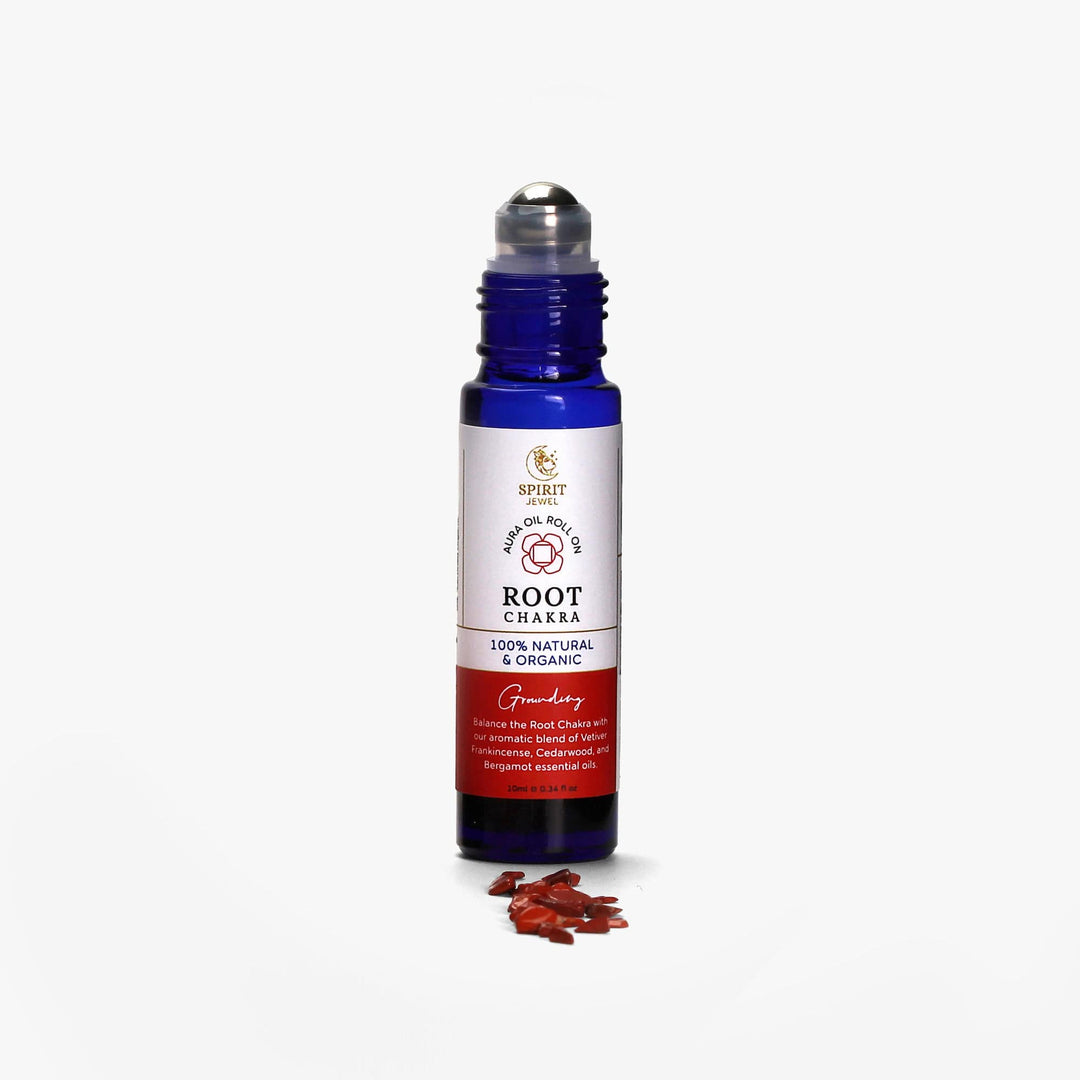 Root Chakra Aura Oil Roll On
---
Forge an unbreakable bond with the Earth and anchor yourself in unwavering grounding with our Root Chakra Aura Oil Roll-On. Expertly crafted using organic Frankincense, Cedarwood, Vetiver, and Bergamot essential oils, this alchemical blend, when gently applied to your pulse points, initiates a transformative healing journey within your Root Chakra. Through this earthy fusion, you'll unlock the gateway to rooted energy and stability.
Inhale the mystical aroma of Frankincense, promoting deep calmness and connection to the present moment. Cedarwood's woody scent grounds energy, fostering emotional stability. Vetiver's earthy notes instil a sense of equilibrium and balance. Bergamot's uplifting citrus essence infuses positivity and overall emotional well-being.
Infused with the potent energy of Red Jasper crystals, our Aura Oil Roll-On resonates with the Root Chakra, the foundation of grounding, stability, and security. Much like the essential oils in our blend, Red Jasper releases obstructions, infusing renewed vitality into your root energy centre.
Revitalise and harmonise your aura's energy, enhancing your daily rituals, meditation, or yoga practices with a roll-on application of our Root Chakra Aura Oil. Immerse yourself in a realm of unshakable foundation, kindling a sense of security and empowerment that flows through every facet of your life.
What is the Root Chakra?
The Root Chakra, known as the Muladhara Chakra, holds the position as the first chakra within the human body. Situated at the base of the spine, it is closely associated with the bold and grounding colour red. This chakra is intrinsically tied to themes of security, stability, and meeting basic needs. When the Root Chakra is harmoniously aligned, it promotes a profound sense of grounding, safety, and security. It also helps to boost self-worth and confidence.

Signs of an Unbalanced Root/Base Chakra
- Feeling insecure or anxious
- Lack of motivation or drive
- Difficulty trusting others
- Physical problems, such as constipation or low back pain

The Root Chakra emerges as a formidable energy centre, offering the means to establish a grounded and secure sense of self. By harnessing the influence of essential oils to enhance energy flow to the Root Chakra, we can unlock a deeper level of stability and overall well-being.

Size
10ml glass roller ball
---
Holistic Healing Made Simple
Our Chakra Aura Oils are made with 100% natural, certified organic essential oils. They are free from chemicals, preservatives, and alcohol. Apply with confidence, knowing that you're nurturing your energy with 100% pure, healing goodness straight from nature.
Step 1
Apply to pulse points: temples,
behind ears, side of neck or wrists.
Step 2
Massage in with deep breaths, and
let the magic of pure essential oils seep in.
Step 3
Visualise your Root Chakra, a red ball of light expanding with each breath.
Root Chakra Aura Oil
Cocos Nucifera L (fractionated Coconut oil)*, Boswellia Serrata (Frankincense)*, Cedrus Atlantica (Cedarwood Atlas)*, Chrysopogon Zizanioides (Vetiver)*, Citrus Bergamia (Bergamot)* essential oils. *Certified Organic
Caution
For external use only. Please avoid contact with eyes. If any irritation occurs, discontinue use. If pregnant, consult a healthcare professional before use.
Despatch times
We'll work our magic to get your precious healing goodies dispatched within 1-2 days after checkout.
UK DELIVERY - £2.49
We'll send your parcel via Standard Royal Mail Signed for/Tracked 24 – all tracked with extra cover.
Shipping Duration
1–3 working days (you may need to sign).
INTERNATIONAL DELIVERY - £7.50
Your package will be securely posted with Royal Mail International Tracked or Signed.

Europe: 3-5 working days
Everywhere Else: 5-7 working days
FREE SHIPPING
Yay! Spend £50 (UK) or £75 (international) and we'll upgrade your order to free shipping with tracking. Your tracking link arrives when we despatch.