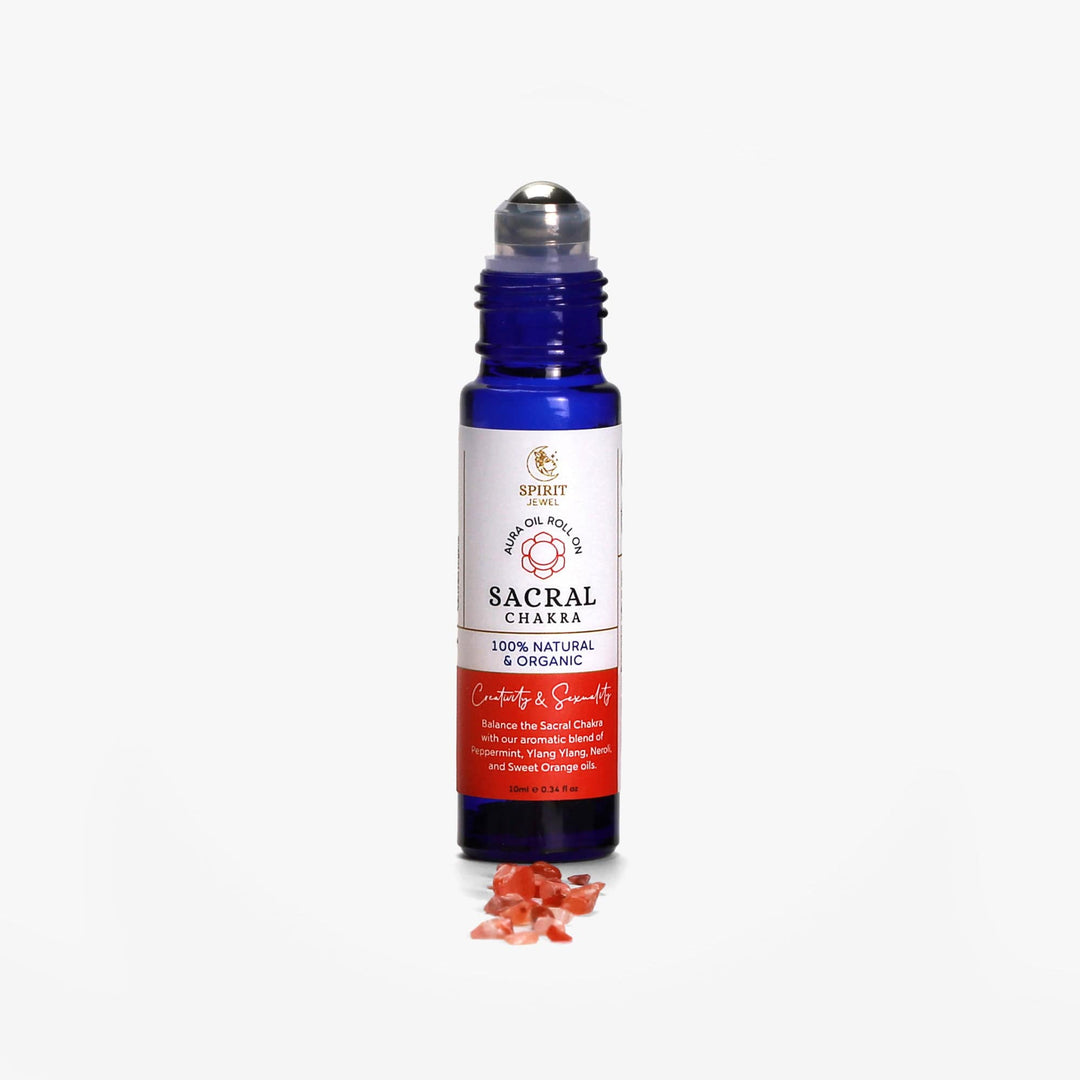 Sacral Chakra Aura Oil Roll On
---
Ignite your inner spark of creativity and awaken your sensual energy with our Sacral Chakra Aura Oil Roll-On! Immerse yourself in the captivating fusion of organic Peppermint, Ylang Ylang, Neroli, and Sweet Orange essential oils, and feel the enchantment when gently applied to your pulse points. This mesmerising blend sets vibrant healing energy ablaze within your Sacral Chakra, freeing your creative spirit to soar.
Inhale the refreshing scent of Peppermint, awakening the senses and boosting energy. Experience the alluring and aphrodisiac properties of Ylang Ylang's exotic scent, promoting sensuality and intimacy. Neroli's sweet and floral notes inspire creativity and inner joy, while the uplifting essence of Sweet Orange delivers a vibrant burst of positivity and enthusiasm.
Every bottle of our Aura Oil Roll-On contains the powerful energy of Carnelian crystals. These crystals raise the vibration of the Sacral Chakra, the center of creativity, sexual energy, and emotions. Just like the essential oils, Carnelian works to dissolve any blockages to revitalise your energy centre.
Recharge & heal your aura's energy and enhance your daily rituals, meditation, or yoga practices with a gentle roll-on application of our Sacral Chakra Aura Oil. Dive into the wellspring of joy and unleash your creative spirit through a harmonised Sacral Chakra, stepping into a world of uninhibited passion and vibrant self-expression.
What is the Sacral Chakra?
The Sacral Chakra, known as the Svadhisthana Chakra, is recognised as the second chakra within the human body. Positioned just below the navel, it is closely associated with the vibrant hue of orange. This chakra is deeply intertwined with creativity, sexuality, and the pursuit of pleasure. A balanced Sacral Chakra bestows a sense of sensuality, creativity, and openness to new experiences. It also promotes the ability to express emotions freely.
Signs of an Unbalanced Sacral Chakra
- Feeling blocked or inhibited in your creativity
- Difficulty expressing your emotions
- Feeling stuck or stagnant in your life
- Sexual problems, such as low libido or sexual dysfunction

The Sacral Chakra stands as a formidable energy centre, offering a means to connect with one's inner creativity and sexuality. By harnessing the influence of essential oils to enhance energy flow to the Sacral Chakra, we can unlock a deeper level of pleasure and fulfillment in our lives.

Size
10ml glass roller ball
---
Holistic Healing Made Simple
Our Chakra Aura Oils are made with 100% natural, certified organic essential oils. They are free from chemicals, preservatives, and alcohol. Apply with confidence, knowing that you're nurturing your energy with 100% pure, healing goodness straight from nature.
Step 1
Apply to pulse points: temples,
behind ears, side of neck or wrists.
Step 2
Massage in with deep breaths, and
let the magic of pure essential oils seep in.
Step 3
Visualise your Sacral Chakra, an orange ball of light expanding with each breath.
Sacral Chakra Aura Oil
Cocos Nucifera L (fractionated Coconut oil)*, Mentha Piperita (Peppermint)*, Cananga Odorata (Ylang Ylang)*, Citrus Aurantium (Neroli)*, Citrus Sinensis (Sweet Orange)* essential oils. *Certified Organic
Caution
For external use only. Please avoid contact with eyes. If any irritation occurs, discontinue use. If pregnant, consult a healthcare professional before use.
Despatch times
We'll work our magic to get your precious healing goodies dispatched within 1-2 days after checkout.
UK DELIVERY - £2.49
We'll send your parcel via Standard Royal Mail Signed for/Tracked 24 – all tracked with extra cover.
Shipping Duration
1–3 working days (you may need to sign).
INTERNATIONAL DELIVERY - £7.50
Your package will be securely posted with Royal Mail International Tracked or Signed.

Europe: 3-5 working days
Everywhere Else: 5-7 working days
FREE SHIPPING
Yay! Spend £50 (UK) or £75 (international) and we'll upgrade your order to free shipping with tracking. Your tracking link arrives when we despatch.