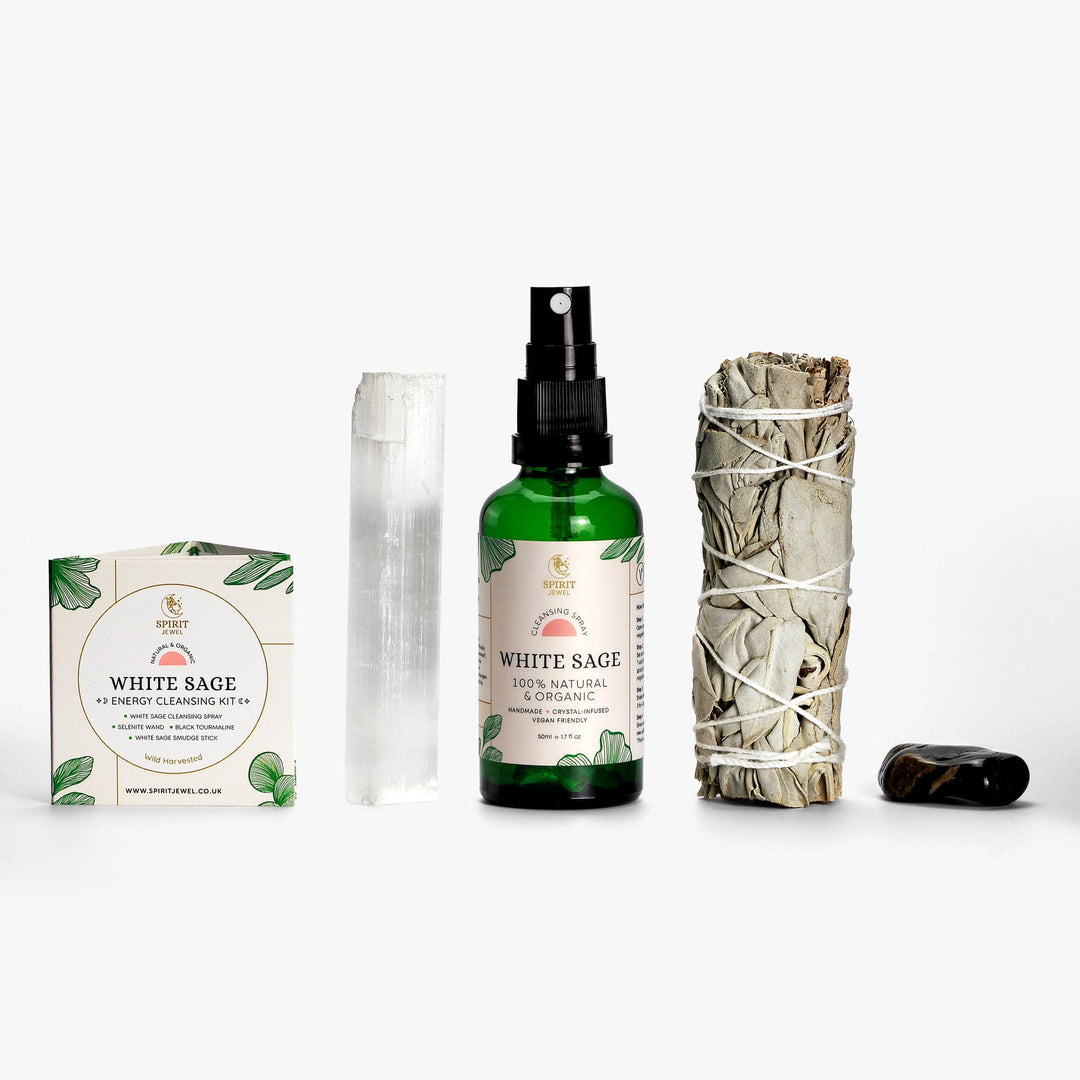 White Sage Cleansing Kit
---
Unlock the enchantment of our White Sage Smudge Kit - a one-stop-shop for all your energy-cleansing needs! Purifying herbs, smudge sticks, White Sage Spray - check! Plus a selenite wand for crystal cleansing and a powerful black tourmaline gem to ward off unwanted vibes. Get yours now and cleanse your space to restore positive energy!

This powerful White Sage Santo Smudge Kit contains everything you need to cleanse your space of negative energy and promote positive vibes.

Our Cleansing kit includes:

A 50ml glass spray bottle filled with a blend of 100% natural and organic cleansing herb ingredients, including the potent White Sage. This spray is perfect for quickly and easily cleansing room space, crystals or your energy field.

1 White Sage smudge stick. This Sage stick can be burned to create a cleansing smoke that will clear away negative energy.

A selenite wand. Selenite is a natural cleanser that can be used to purify any space, including your crystals.

A black tourmaline crystal. Black tourmaline is a powerful grounding stone that can help to protect you from negative energy. Use this kit to cleanse your home, office, or any other space that needs a little bit of clearing.
Sprays and Smudge Sticks
Ignite & Intention
To begin, open windows & set your intention. Choose your smokeless cleansing spray or ignite your White Sage smudge stick by holding it in a flame for up to 30 seconds. Then, use our cleansing invocation in our guide book, or create one personal to you.

Focus & Cleanse
Focus on your intention as you spritz or swirl Sage smoke around your room/aura/crystals.

Gratitude
Once you have finished, show gratitude by giving thanks for the cleansing received.
Selenite
Use this raw, moon-like crystal to purify your aura by slowly sweeping it around your body. To cleanse rooms, place it above doorways or window sills to expel negative energy that enters your space. As Selenite is self-charging and never needs cleansing, you can also keep it with your other crystals to energise and enhance their healing properties.
Black Tourmaline Crystal
Having Black Tourmaline nearby creates a powerful shield around your aura, protecting you from absorbing unwanted negative energies and harmful electromagnetic smog. Whether it's in your pocket or placed in a specific area, this crystal's strong spiritual properties will guard you throughout the day. Additionally, it's excellent for grounding and balancing the root chakra.
White Sage Cleansing Spray
Aqua (water), Salvia Apiana (wild harvested White Sage), Salvia Officinalis (Sage)*, Boswellia Serrata (Frankincense)*, Citrus Auranth (Neroli)*, Rosmarinus Officinalis (Rosemary)*, Juniperus Communis (Juniper Berry)*, Cymbopogon Flexuosis (Lemon Grass)* essential oils. *Certified Organic
Caution
For external use only. Please avoid contact with eyes. If any irritation occurs, discontinue use. If pregnant, consult a healthcare professional before use.
Despatch times
We'll work our magic to get your precious healing goodies dispatched within 1-2 days after checkout.
UK DELIVERY - £2.49
We'll send your parcel via Standard Royal Mail Signed for/Tracked 24 – all tracked with extra cover.
Shipping Duration
1–3 working days (you may need to sign).
INTERNATIONAL DELIVERY - £7.50
Your package will be securely posted with Royal Mail International Tracked or Signed.

Europe: 3-5 working days
Everywhere Else: 5-7 working days
FREE SHIPPING
Yay! Spend £50 (UK) or £75 (international) and we'll upgrade your order to free shipping with tracking. Your tracking link arrives when we despatch.