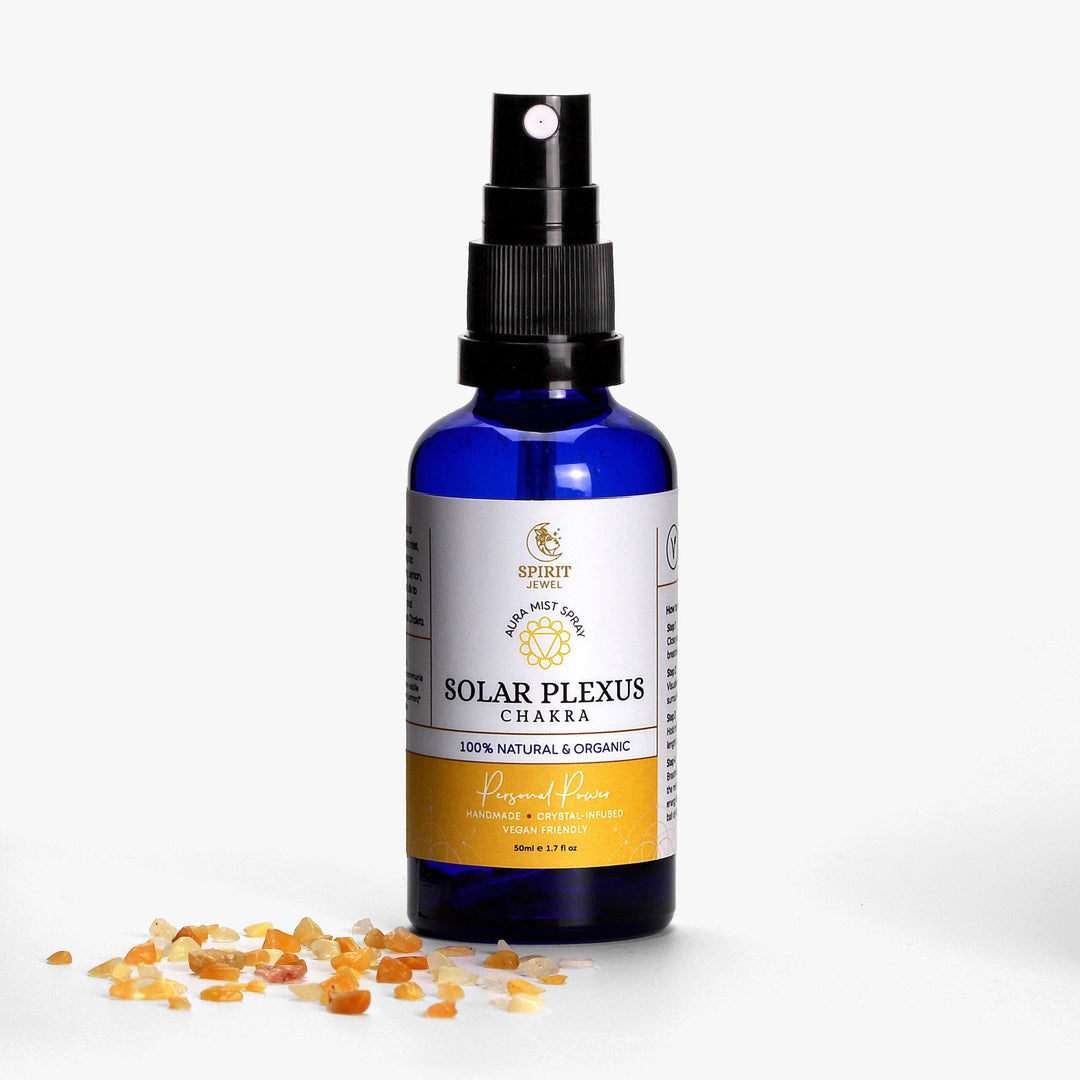 Solar Plexus Chakra Aura Mist Spray
---
Energise and super-charge your personal power and confidence with our Solar Plexus Chakra Aura Mist! This uplifting, energy-cleansing smudge spray is Crafted with the finest natural & organic Cedarwood, Juniper Berry, Chamomile, and Lemon essential oils, this empowering blend realigns healing energy within the Solar Plexus.
Inhale the invigorating woody scent of Cedarwood, radiating strength, resilience and grounding. Juniper Berry's refreshing aroma promotes mood-elevation, enhanced focus and positivity. Chamomile's soothing notes offer a calming embrace, alleviating anxiety while encouraging a positive self-image and self-assurance. Meanwhile, Lemon's zesty essence uplifts and revitalises, infusing mental clarity and alertness with a burst of energy.
Infused with Citrine Crystals, renowned for their ability to bring abundance and self-worth, this mist encourages unwavering confidence. Made with 100% natural & organic ingredients, its the perfect Chakra Mist for pursue your goals, dreams and ambitions!
Recharge & heal your aura's energy and enhance your daily rituals, meditation, or yoga practices with a spritz of our Solar Plexus Chakra Aura Mist. Super-charge the empowerment potential of your balanced Solar Plexus and step into a world of personal power and triumphant success.
What is the Solar Plexus Chakra
The Solar Plexus Chakra, also known as the Manipura Chakra, is the third chakra in the body. It is located in the stomach area and is associated with the colour yellow. It relates to personal power, confidence, and self-esteem. When the Solar Plexus Chakra is balanced, we feel strong, capable, and in control of our lives. We are also able to set boundaries and stand up for ourselves.
Signs of an Unbalanced Solar Plexus Chakra
- Feeling insecure or powerless
- Lack of confidence
- Difficulty making decisions
- Digestive problems, such as bloating or gas
The Solar Plexus Chakra is a powerful energy centre that can help us tap into our inner strength and power. Using essential oils to simulate energy-flow to the Solar Plexus Chakra, we can open ourselves up to a deeper level of confidence and self-assurance.
Size
50ml glass spray bottle.
---
Holistic Healing Made Simple
Our Aura Mists are made with 100% natural, certified organic essential oils. They are free from chemicals, preservatives, and alcohol. Spritz with confidence, knowing that you're nurturing your energy with 100% pure, healing goodness straight from nature.
Step 1
Close your eyes and take a few deep breaths to center & ground yourself.
Step 2
Visualise a vibrant ball of lilac light surrounding your entire body.
Step 3
Hold the balancing mist about arm's length & spritz around your aura.
Step 4
Breathe deeply, inhaling the scent of the mist. Allow it to settle into your energy field whilst you visualise the ball of yellow light expanding.
Solar Plexus Chakra Aura Mist Spray
Aqua (water), Cedrus atlantica (Cedarwood Atlas)*, Juniperus communis (Juniper Berry)*, Chamaemelum nobile (Chamomile)*, Citrus limonum (Lemon)* essential oils. *Certified Organic
Caution
For external use only. Please avoid contact with eyes. If any irritation occurs, discontinue use. If pregnant, consult a healthcare professional before use.
Despatch times
We'll work our magic to get your precious healing goodies dispatched within 1-2 days after checkout.
UK DELIVERY - £2.49
We'll send your parcel via Standard Royal Mail Signed for/Tracked 24 – all tracked with extra cover.
Shipping Duration
1–3 working days (you may need to sign).
INTERNATIONAL DELIVERY - £7.50
Your package will be securely posted with Royal Mail International Tracked or Signed.

Europe: 3-5 working days
Everywhere Else: 5-7 working days
FREE SHIPPING
Yay! Spend £50 (UK) or £75 (international) and we'll upgrade your order to free shipping with tracking. Your tracking link arrives when we despatch.